Sharon's Cafe | Menu | Hours | Delivery
Who doesn't love breakfast? That's right no one, which is why Sharon's Cafe in Holladay is such a popular spot with locals. The restaurant offers up a range of tasty cafe classics – with one particularly special headline item – breafkast anytime!
Sharon's Cafe delivered
Get Sharon's delivered right to your desk or door – fast. Order through GrubHub here. The delivery fee is waived on first time orders too.  Note: we get a small referral fee if you place a first time order 🙂
Sharon's Cafe menu
The following menu scan was take in early 2014:
Please note we are not affiliated with this business. Prices, ingredients, nutrition and menu options are provided here only as a general reference guide and may be out of date or incorrect. Please be sure to always confirm menu items directly with listed businesses. Look for other menus
here
.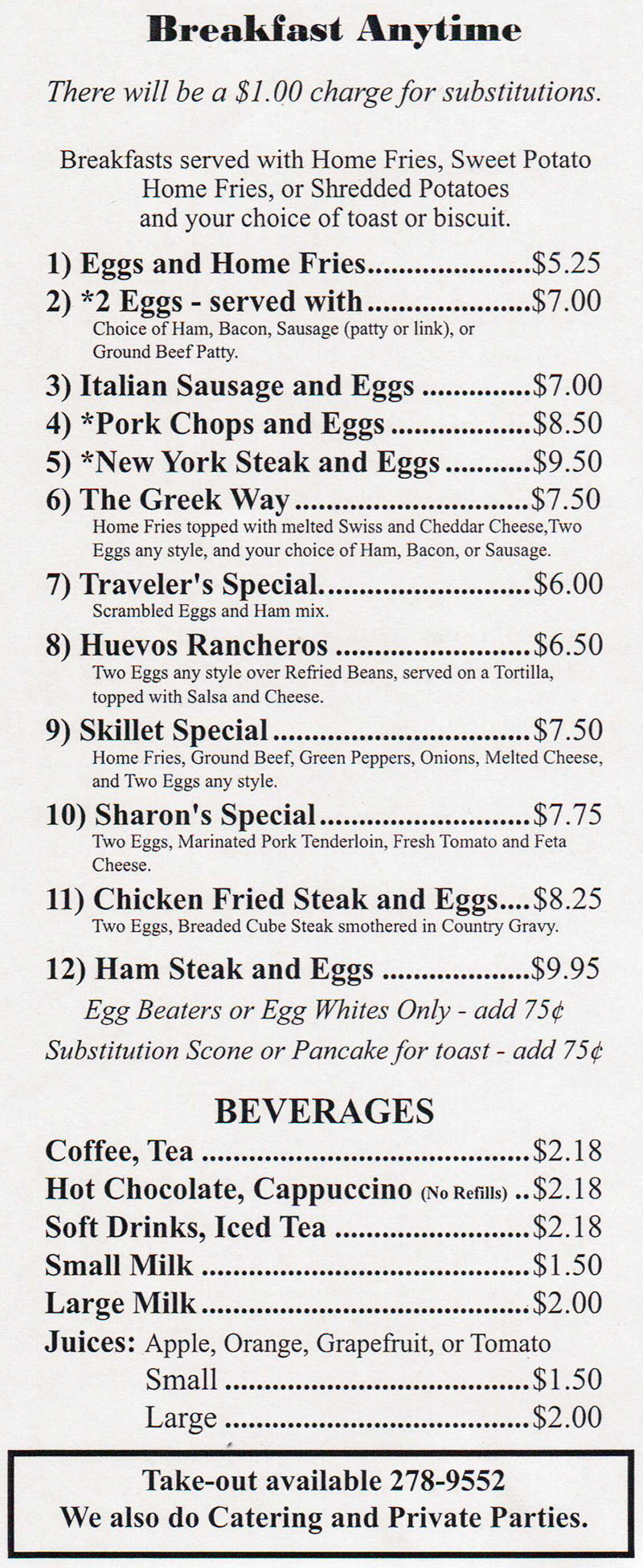 What else should I know about Sharon's Cafe?
Cuisine: American / Cafe
Don't miss: All day breakfast
Reservations: No
Parking: Own parking lot
Alcohol: No
Service and atmosphere: Casual, table service
Delivery: Yes, via GrubHub here.
What are the hours for Sharon's Cafe
| | |
| --- | --- |
| Monday | 6.30 a.m. – 2 p.m. |
| Tuesday | 6.30 a.m. – 2 p.m. |
| Wednesday | 6.30 a.m. – 2 p.m. |
| Thursday | 6.30 a.m. – 2 p.m. |
| Friday | 6.30 a.m. – 2 p.m. |
| Saturday | 6.30 a.m. – 2 p.m. |
| Sunday | 6.30 a.m. – 2 p.m. |
Where is Sharon's Cafe located in Utah
2263 Murray Holladay Rd, Salt Lake City, UT 84117
(801) 278-9552