Last Updated on
Twin Suns Cafe replaces the former Rocky Mountain Grill restaurant in the center of Sugar House. At first glance you'd think this was a classic American style diner. But dig a little deeper into the menu items and you'll find chef Daniel's love for the popular movie Star Wars; dishes like Obi Kebobis and the Nerf Burger are sure to be sought out by likeminded lovers of the force.
The following Twin Suns menu is dated January 2018: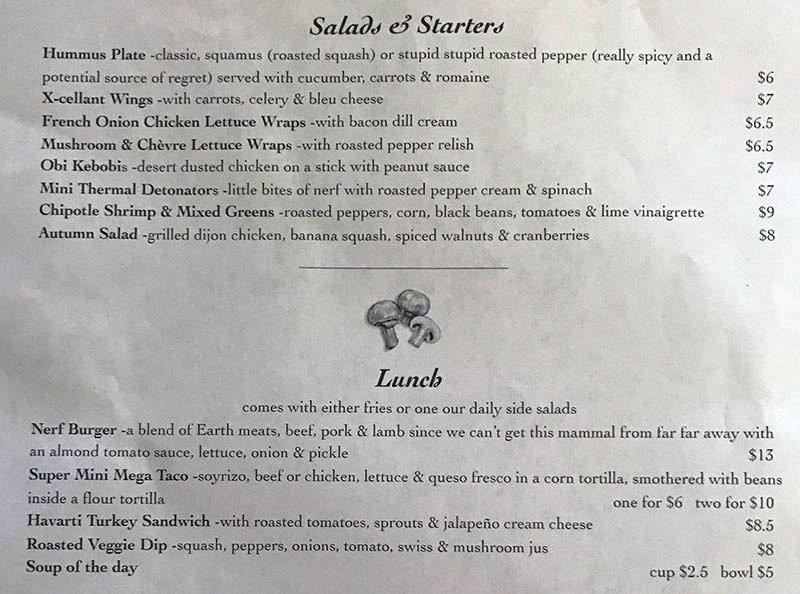 The following Twin Suns menu was provided by the restaurant in January 2018.
What are the hours for Twin Suns
| | |
| --- | --- |
| Monday | 7 a.m. – 3 p.m. |
| Tuesday | closed |
| Wednesday | 7 a.m. – 3 p.m. |
| Thursday | 7 a.m. – 3 p.m. |
| Friday | 7 a.m. – 3 p.m. |
| Saturday | 7 a.m. – 3 p.m. |
| Sunday | 7 a.m. – 3 p.m. |
What else should I know about Twin Suns
Cuisine: American
Don't miss:
Reservations: No
Parking: TBA
Alcohol: TBA
Service and atmosphere: TBA
Where is Twin Suns located
2305 South Highland Drive, Salt Lake City, 84106, Utah
(801) 359-6035
facebook.com/pg/Twin-Suns-Cafe-480061815713818/