What's more to say about Hires Big H, that's not already been said? Hires is an iconic Utah institution. Dating back to 1959, the SLC location still offers classic car hop service right to your window. Utahns hold a special place in their hearts for Hires' traditional burgers, fries, shakes and yes – fry sauce.
Looking for burgers near you right now? Check out our burger locator.
Hires Big H menu
The following Hires Big H menu is dated 2016:
Please note we are not affiliated with this business. Prices, ingredients, nutrition and menu options are provided here only as a general reference guide and may be out of date or incorrect. Please be sure to always confirm menu items directly with listed businesses. Look for other menus
here
.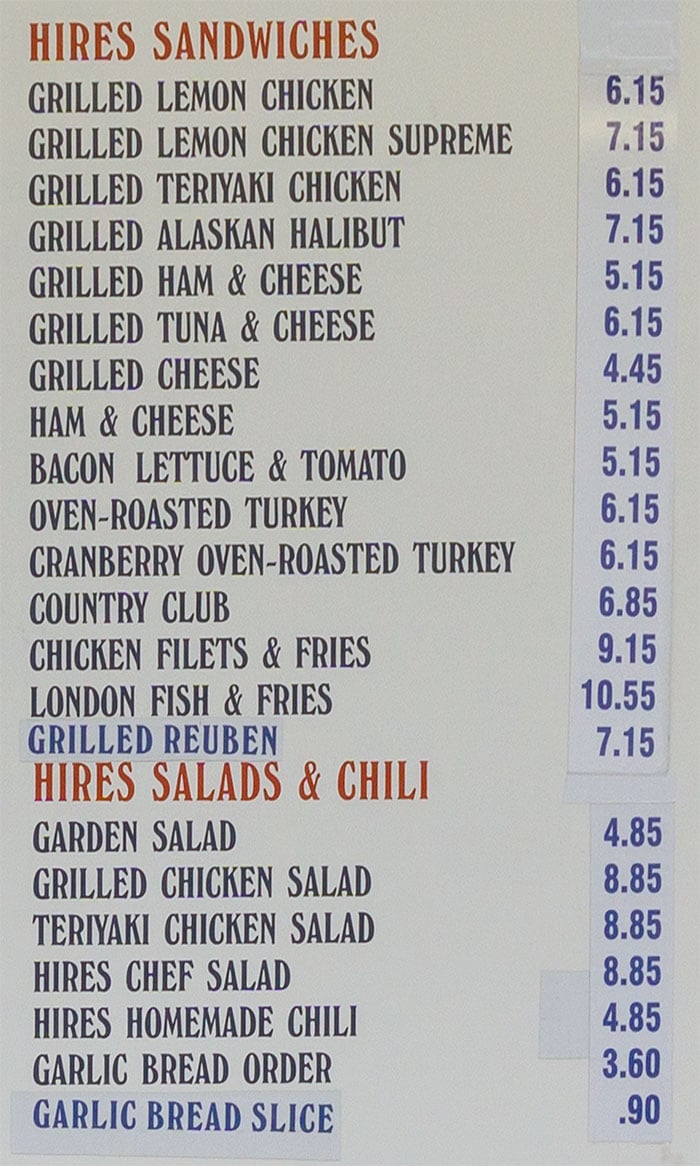 The above Hires Big H menu was taken at their downtown SLC drive through location.
What else should I know about Hires Big H
Cuisine: American / Burgers
Don't miss: Big H burger
Reservations: No
Parking: Own lot
Alcohol: No
Service and atmosphere: Casual, counter service and car hop
Where is Hires Big H located in Utah
There are three locations of Hires Big H in Utah as follows:
Salt Lake City
425 S. 700 E. Salt Lake City, UT
(801) 364-4582
Midvale
835 E. Fort Union , Midvale, UT
(801) 561-2171
West Valley
2900 W. 4700 S. West Valley City, UT
(801) 965-1010
What are the hours for Hires Big H in Salt Lake City
| | |
| --- | --- |
| Monday | 10.30 a.m. – 11.00 p.m. |
| Tuesday | 10.30 am. – 11.00 p.m. |
| Wednesday | 10.30 a.m. – 11.00 p.m. |
| Thursday | 10.30 a.m. – 11.00 p.m. |
| Friday | 10.30 a.m. – midnight |
| Saturday | 10.30 a.m. – midnight |
| Sunday | closed |
What are the hours for Hires Big H in Midvale
| | |
| --- | --- |
| Monday | 10.30 a.m. – 10.00 p.m. |
| Tuesday | 10.30 am. – 10.00 p.m. |
| Wednesday | 10.30 a.m. – 10.00 p.m. |
| Thursday | 10.30 a.m. – 10.00 p.m. |
| Friday | 10.30 a.m. – 10.30 p.m. |
| Saturday | 10.30 a.m. – 10.30 p.m. |
| Sunday | closed |
What are the hours for Hires Big H in West Valley City
| | |
| --- | --- |
| Monday | 11.00 a.m. – 10.00 p.m. |
| Tuesday | 11.00 am. – 10.00 p.m. |
| Wednesday | 11.00 a.m. – 10.00 p.m. |
| Thursday | 11.00 a.m. – 10.00 p.m. |
| Friday | 11.00 a.m. – 10.30 p.m. |
| Saturday | 11.00 a.m. – 10.30 p.m. |
| Sunday | closed |