Valentines Day Menus In Utah 2018
Looking for somewhere romantic to take that special someone this year? We're constantly reviewing restaurant menus and websites and often come across great specials. Check out the following list off Salt Lake City Valentine Day's menus we've recently come across.
We will be adding more menus to this list as more restaurants confirm their offerings. Check back for more soon. Also be sure to check OpenTable and their Valentine listings as early as you can to book somewhere special.
Hoof And Vine
Feb 13-17 | specials | details
Please note we are not affiliated with this business. Prices, ingredients, nutrition and menu options are provided here only as a general reference guide and may be out of date or incorrect. Please be sure to always confirm menu items directly with listed businesses. Look for other menus
here
.
Rib And Chop house
Feb 14th | $49.95 lobster deal | details
Warrens Craft Burger
Feb 14th | 50% off deal | details
Avenues Proper
Feb 9-14th | $42 per person | details
Stoneground Restaurant
Feb 14th | $45-$65 per person | details
Laziz Kitchen
Feb 14th | $100 per person – details
Cafe Madrid
Feb 14th | $55 per person – details
Trestle Tavern
Feb 14th | $65 per person – details
Pago
Feb 14th | $120 per person – details
Cucina
Feb 14th | $85 per person – details
Caffe Niche
Feb 14th – $50 per person
Stanza
Feb 14th – $65 per person
Current Fish And Osyter
Feb 14th – $65 per person
Oasis Cafe
Feb 14th – $50 per person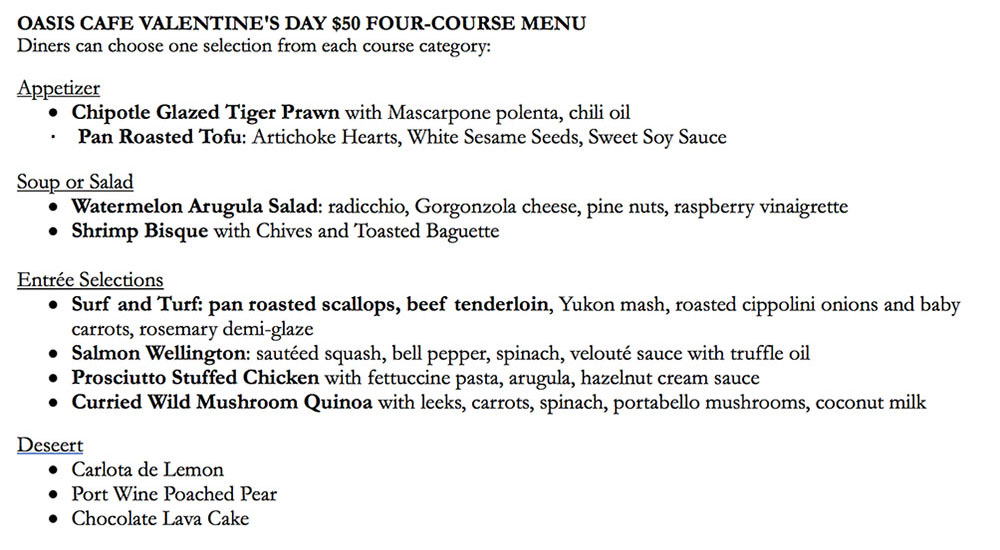 Finca
Feb 14th | $100 per person – details
Porch
Feb 8th | $70 per person – details
Harmons – Bangerter Crossing
Feb 14th | $100 per person – details
Tuscany
Feb 14th | $58 per person – details
Culinary Crafts
Feb 14th | $225- $300 per person – details