Cantina Southwestern Grill menu
Cantina Southwestern Grill is a Tex-Mex restaurant located at the Jordan Commons facility; open seven days a week it makes a perfect spot to grab a bite before or after a show at the adjacent Megaplex theatre. Keep your eyes open for the free salsa bar with lots of fresh selections – all meals start with free chips if you want!
Cantina Southwestern Grill menu
The following Cantina Southwestern Grill menu is dated August 2018:
Please note we are not affiliated with this business. Prices, ingredients, nutrition and menu options are provided here only as a general reference guide and may be out of date or incorrect. Please be sure to always confirm menu items directly with listed businesses. Look for other menus
here
.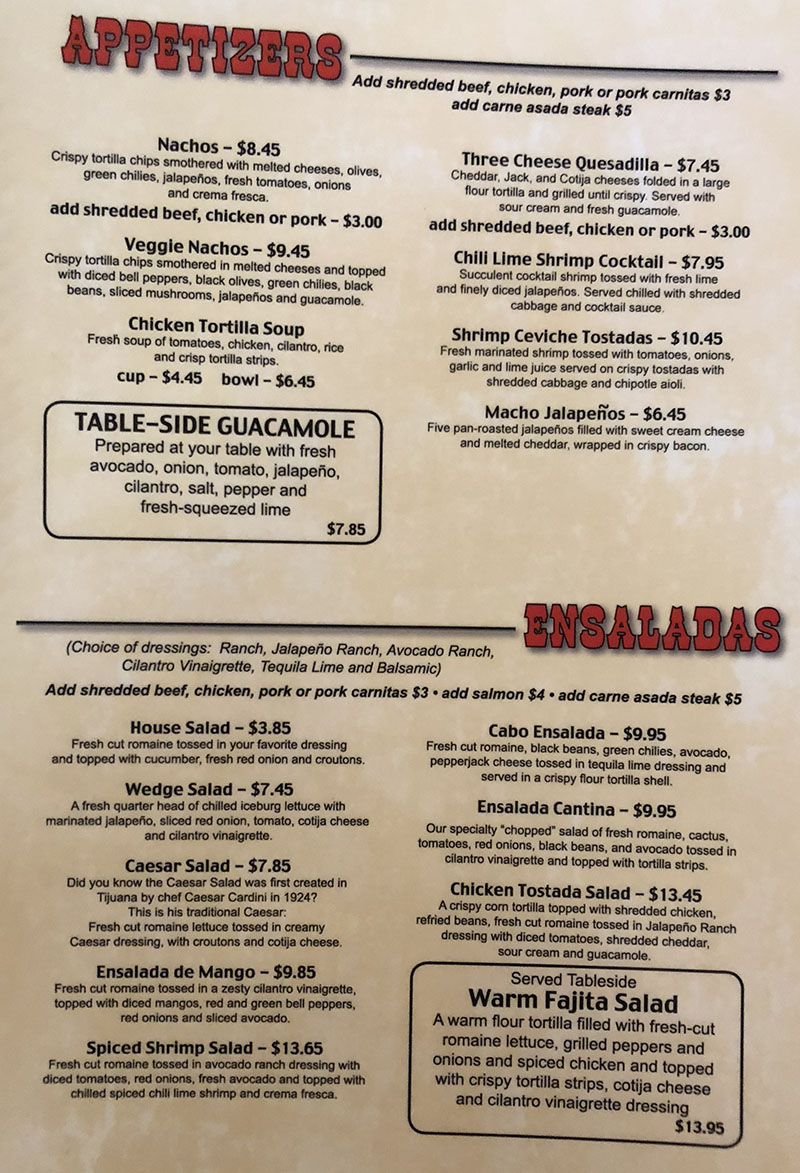 What are the hours for Cantina Southwestern Grill
| | |
| --- | --- |
| Monday | 11.00 a.m. – 10.00 p.m. |
| Tuesday | 11.00 a.m. – 10.00 p.m. |
| Wednesday | 11.00 a.m. – 10.00 p.m. |
| Thursday | 11.00 a.m. – 10.00 p.m. |
| Friday | 11.00 a.m. – 11.00 p.m. |
| Saturday | 11.00 a.m. – 11.00 p.m. |
| Sunday | 11.00 a.m. – 9.00 p.m. |
What else should I know about Cantina Southwestern Grill
Cuisine: Tex-Mex
Don't miss: Free salsa bar
Reservations: No
Parking: Plenty as part of Jordan Commons facility
Alcohol: Full bar
Service and atmosphere: Casual, table service
Seating: Tables, patio, bar area
Where is Cantina Southwestern Grill located
75 East 9400 South, Sandy, UT 84070
(801)-569-2250
cantinasouthwesterngrill.com
What's the food like at Cantina Southwestern Grill