Please note that this business is currently closed. The menu is presented for historical reference only. Check out our restaurant finder for somewhere new to eat.
Last Updated on
The Rising Bun is a restaurant in Lehi Utah that offers a range of dishes, loosely tied together with a pan-Asian thread. On the diverse menu you'll find ramen, steamed bao style buns, poke, salads and more.
The Rising Bun menu
The following The Rising Bun menu is dated October 2018: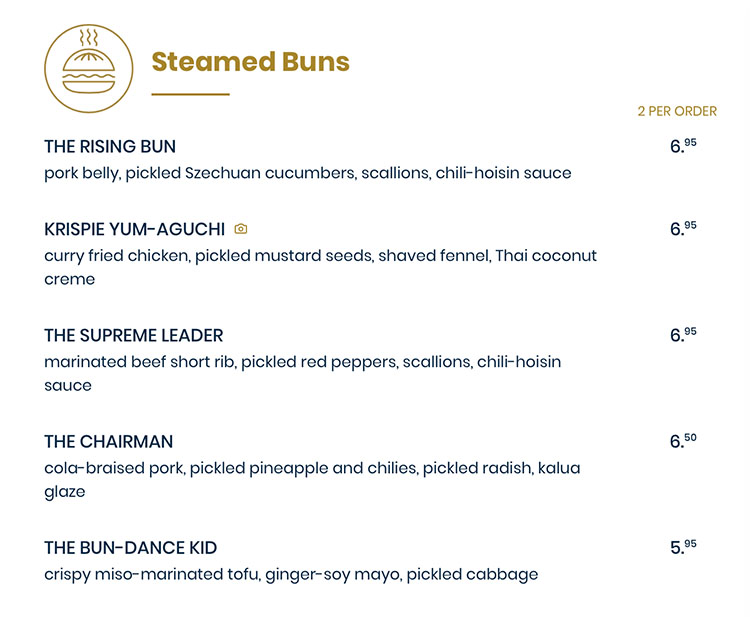 The above The Rising Bun menu was provided by the restaurant.
What are the hours for The Rising Bun
| | |
| --- | --- |
| Monday | 10.30 a.m. – 10.00 p.m. |
| Tuesday | 10.30 a.m. – 10.00 p.m. |
| Wednesday | 10.30 a.m. – 10.00 p.m. |
| Thursday | 10.30 a.m. – 10.00 p.m. |
| Friday | 10.30 a.m. – 10.00 p.m. |
| Saturday | 10.30 a.m. – 10.00 p.m. |
| Sunday | closed |
What else should I know about The Rising Bun
Cuisine: Pan Asian
Don't miss: Bao buns
Reservations:
Parking:
Alcohol:
Service and atmosphere:
Seating:
Where is The Rising Bun located
725 North Thanksgiving Way, Lehi, UT 84043
(801) 331-8251
therisingbun.co
What's the food like at The Rising Bun
What's interior and seating like at The Rising Bun