Vito's in Bountiful is thought by some to have they very best Philly style cheesecakes in the state of Utah. Owned and operated by husband and wife duo Vito and Melanie, the restaurant is open five days a week for lunch, and garners rave reviews.
Vito's menu
The following Vito's menu is dated June 2018: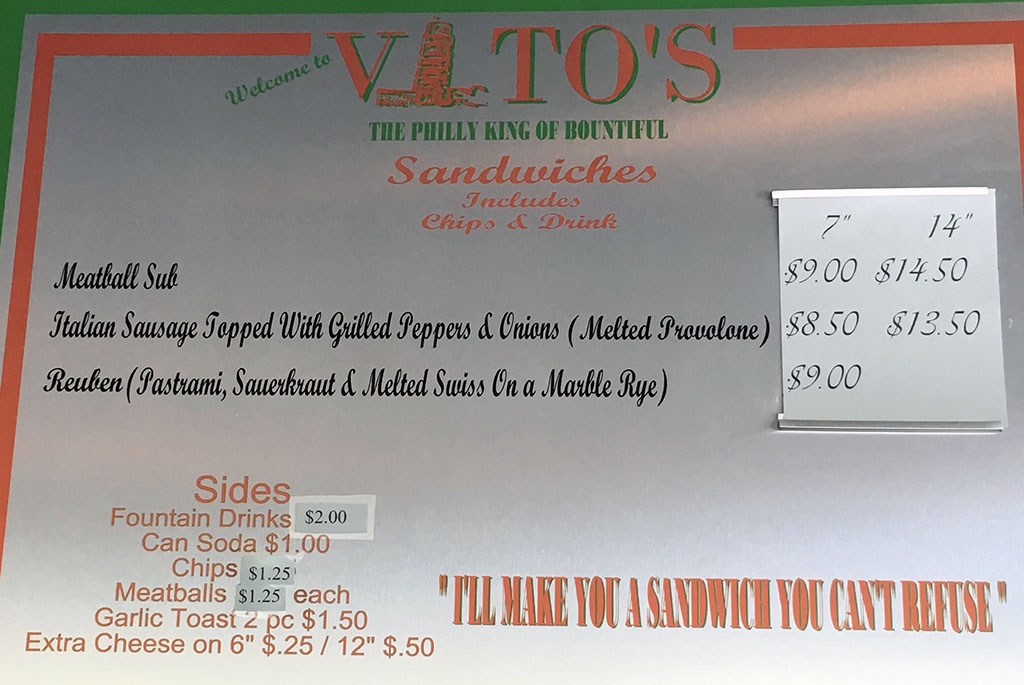 The above Vito's menu was provided to us by Instagram user Goldsadventures.
Other interesting menus and items from our ad partners
What are the hours for Vito's
| | |
| --- | --- |
| Monday | 11.00 a.m. – 2.00 p.m. |
| Tuesday | 11.00 a.m. – 2.00 p.m. |
| Wednesday | 11.00 a.m. – 2.00 p.m. |
| Thursday | 11.00 a.m. – 2.00 p.m. |
| Friday | 11.00 a.m. – 2.00 p.m. |
| Saturday | closed |
| Sunday | closed |
What else should I know about Vito'sAME
Cuisine: American
Don't miss: Philly cheesesteaks
Reservations: No
Parking:
Alcohol: No
Service and atmosphere: Casual
Where is Vito's located
100 S Main St, Bountiful, Utah 84010
(801) 953-8486
facebook.com/pages/Vitos/147818028574630