Red Lobster menu with prices
The following information was recently updated on September 20, 2019
Red Lobster is one of America's favorite destinations when the craving for delicious seafood hits. The menu is broad and extensive with something for everyone. The menu provided here represents the core of the Red Lobster menu plus some specials – but note your local Red Lobster more than likely offers even more options!
Red Lobster delivered: Use Postmates to get Red Lobster delivered right to your desk or door. Get $100 in delivery credit when you make your first order too! Plus we get an $8 referral fee when you place your first order 🙂
Red Lobster menu
The following Red Lobster menu is dated September 2019 and is from their to go menu (see below for in store pictures):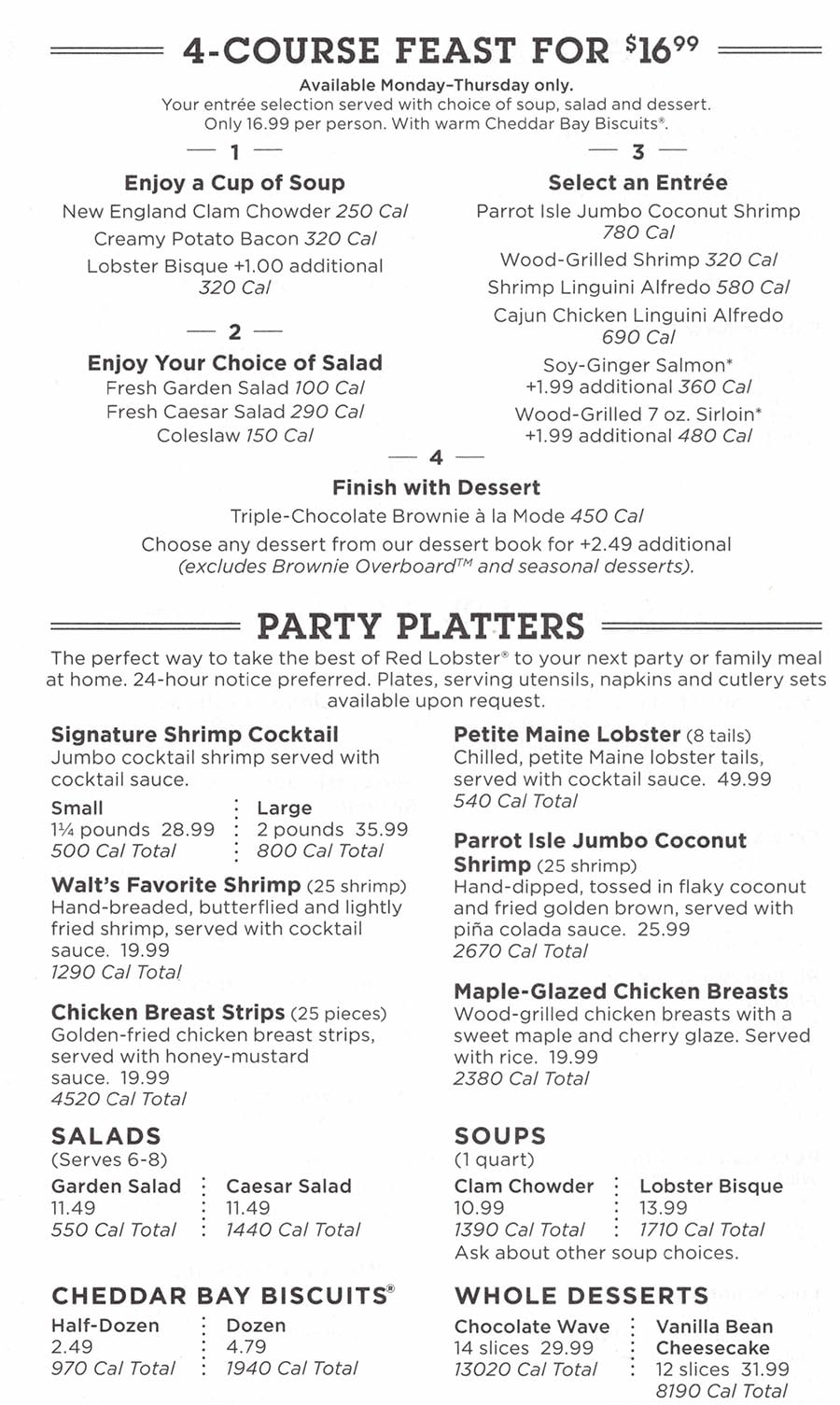 Older Reb Lobster menu in store
The following Red Lobster menu is dated July 2018:
Red Lobster lunch menu
The above Red Lobster menu was provided by a reader of the site and is from the Murray, Utah location.
Red Lobster crabfest menu
These are the menus for the 2018 Crabfest event, again from the Murray Utah location:
Red Lobster gluten free menu
Red Lobster beverage menu
Reb Lobster restaurants typically have a full bar with a range of wine, beer and liquor – plus plenty of cocktail options not listed here. Here again, these are the main Murray Utah liquor menus:
What are the hours for Red Lobster
These are the hours for Red Lobster in Murray, Utah. Other locations may have slightly different hours, call to confirm directly with the restaurant.
| | |
| --- | --- |
| Monday | 11.00 a.m. – 10.00 p.m. |
| Tuesday | 11.00 a.m. – 10.00 p.m. |
| Wednesday | 11.00 a.m. – 10.00 p.m. |
| Thursday | 11.00 a.m. – 10.00 p.m. |
| Friday | 11.00 a.m. – 11.00 p.m. |
| Saturday | 11.00 a.m. – 11.00 p.m. |
| Sunday | 11.00 a.m. – 10.00 p.m. |
What else should I know about Red Lobster
Cuisine: Seafood
Don't miss: Extensive and varies menu
Reservations:
Parking: Own lot
Alcohol: Full bar
Service and atmosphere: Casual, waiter service
Where is Red Lobster located in Utah
Red Lobster has four locations in Utah as follows:
Sugar House
2294 S 1300 E, Salt Lake City, UT 84106
(801) 483-1343
Murray
298 E Winchester St, Murray, UT 84107
(801) 288-2940
Layton
979 North 400 West, Layton,UT 84041
(801) 546-3522
Orem
1261 S. 800 East, Orem,UT 84097
(801) 724-3500