Yoyi's Mexican Grill (formerly Taco 'Bout Burritos) is a new Mexican restaurant close to the 9th and 9th neighborhood that opened in late 2018. The restaurant offers a fast casual menu of Mexican favorites and also has beer and wine available too.
Yoyi's Mexican Grill menu
The following Yoyi's Mexican Grill menu is dated October 2018:
Please note we are not affiliated with this business. Prices, ingredients, nutrition and menu options are provided here only as a general reference guide and may be out of date or incorrect. Please be sure to always confirm menu items directly with listed businesses.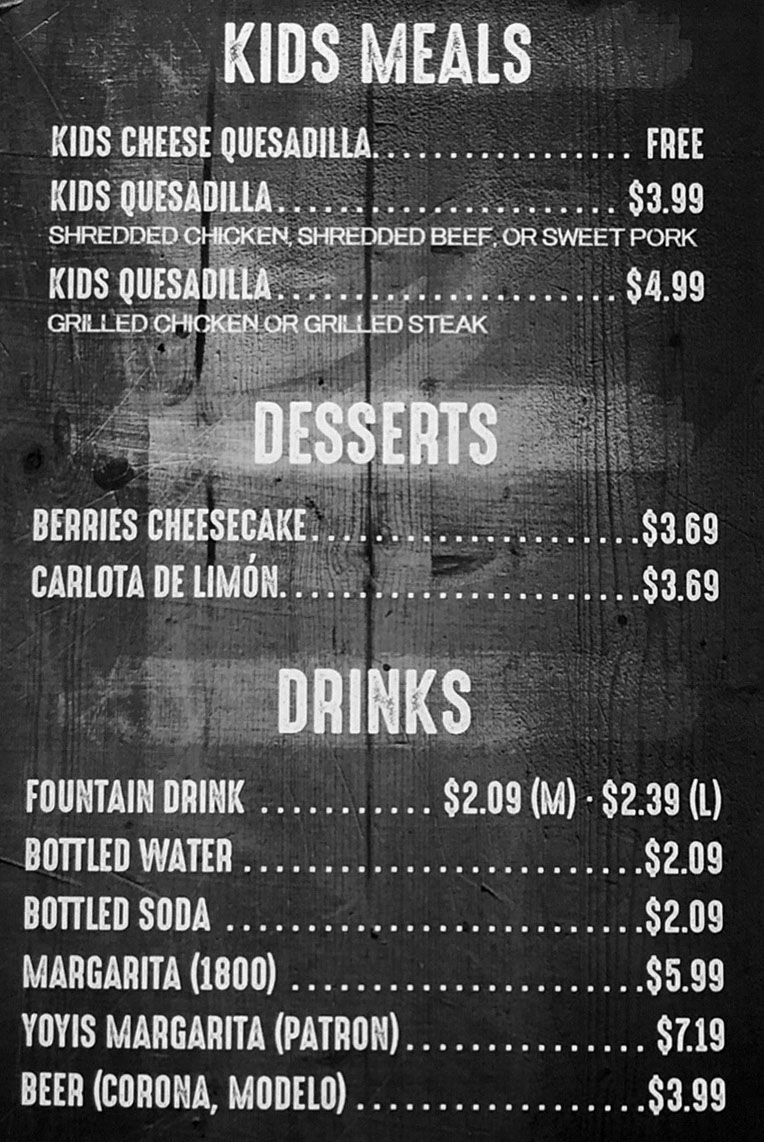 The above Yoyi's Mexican Grill menu was provided by a reader of the site.
What are the hours for Yoyi's Mexican Grill
| | |
| --- | --- |
| Monday | 11.00 a.m. – 9.00 p.m. |
| Tuesday | 11.00 a.m. – 9.00 p.m. |
| Wednesday | 11.00 a.m. – 9.00 p.m. |
| Thursday | 11.00 a.m. – 9.00 p.m. |
| Friday | 11.00 a.m. – 10.00 p.m. |
| Saturday | 11.00 a.m. – 10.00 p.m. |
| Sunday | closed |
What else should I know about Yoyi's Mexican Grill
Cuisine: Mexican
Don't miss:
Reservations: No
Parking:
Alcohol: Full bar license, beer and margaritas served
Service and atmosphere: Casual
Seating:
Where is Yoyi's Mexican Grill located
1270 1100 E, Salt Lake City, UT 84105
(801) 828-8757
yoyismexicangrill.com
What's the food like at Yoyi's Mexican Grill
What's does the outside of Yoyi's Mexican Grill look like