The following information was recently updated on July 24, 2019
Shanghai Cafe is an Asian restaurant on the outskirts of downtown Salt Lake City. The menu at Shanghai Cafe features Chinese, Thai and Vietnamese options mainly leading to vegetarian selections amidst a huge choice of dishes. The restaurant is handily open seven days a week for when your vegetarian cravings hit too.
Shanghai Cafe menu
The following Shanghai Cafe menu is dated January 2019
Review this restaurant
- have you eaten at this restaurant recently? Let us know the dishes you enjoyed so other diners can find great dishes to order here. Looking for something else? Use our
menu locator here
to discover the restaurant menus closest to you right now.

We are not affiliated with this business. Prices, ingredients, nutrition and menu options are provided only as a reference and may be outdated and incorrect. Always confirm prices directly with the listed businesses.
The following Shanghai Cafe menu is dated January 2019: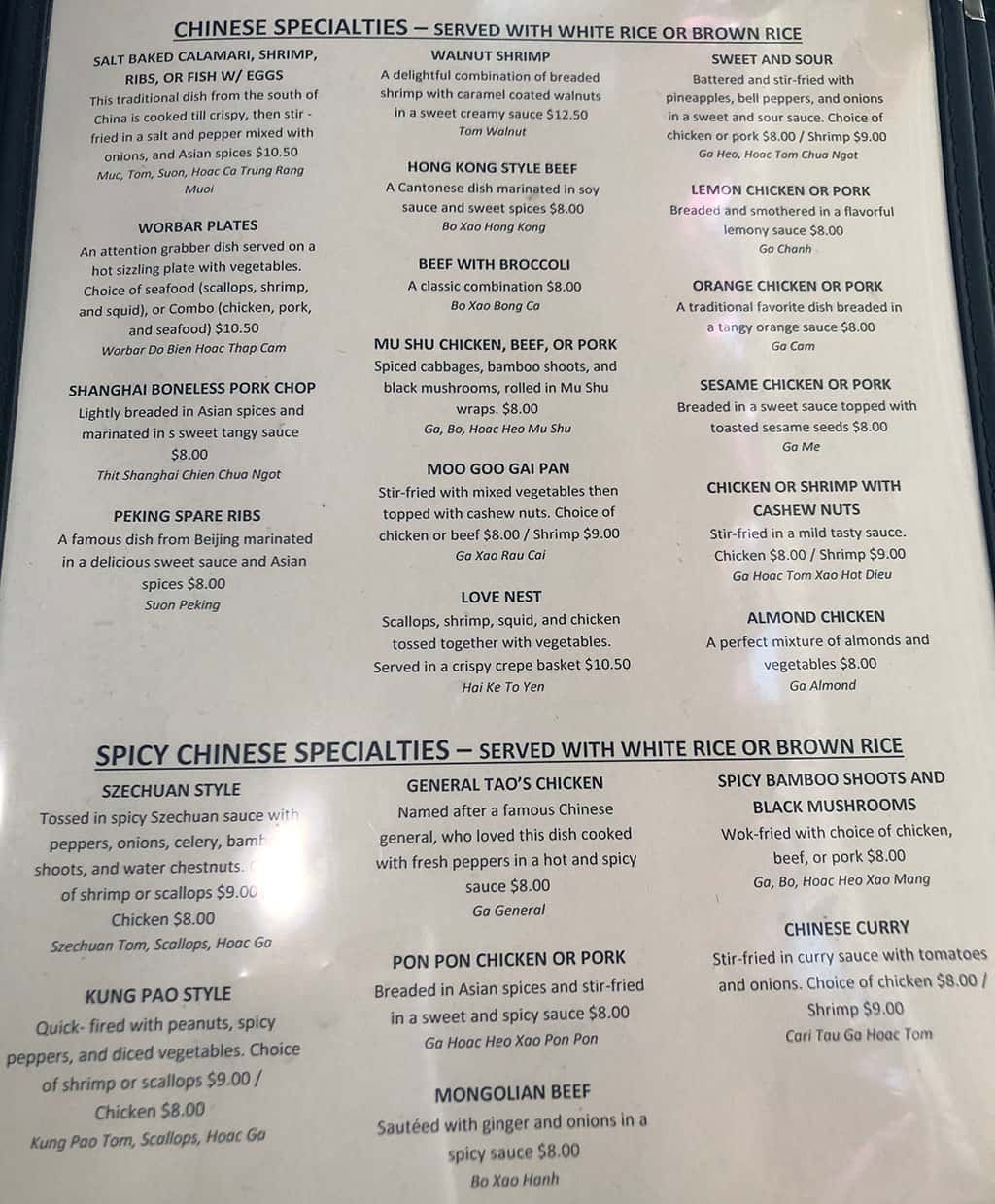 The above Shanghai Cafe menu was provided by a reader of the site.
What are the hours for Shanghai Cafe?

| | |
| --- | --- |
| Monday | 11.00 a.m. – 9.30 p.m. |
| Tuesday | 11.00 a.m. – 9.30 p.m. |
| Wednesday | 11.00 a.m. – 9.30 p.m. |
| Thursday | 11.00 a.m. – 9.30 p.m. |
| Friday | 11.00 a.m. – 10.00 p.m. |
| Saturday | 11.00 a.m. – 10.00 p.m. |
| Sunday | noon – 9.30 p.m. |
What else should I know about Shanghai Cafe?
Cuisine: Pan-Asian
Don't miss: Extensively vegetarian
Reservations – No
Parking – Large shared lot
Alcohol – Beer and wine
Service and atmosphere – Casual, table service
Seating: Tables
Where is Shanghai Cafe located?
145 East 1300 South, Salt Lake City, UT 84115, USA
(801) 322-1841
shanghaicafeslc.com

Reviews of this restaurant
The Best Vegetarian Chinese in Town!
Shanghai Cafe is seriously delicious, and there's something for everyone. My family and I have been going here for years, it's a gem. Their vegetarian chicken is our favorite, and oftentimes even our meat-eating family members will order all-vegetarian dishes because you just can't put it down! The vegetarian fried rice is a staple of ours, and we do big-family style meals because the helpings are generous. Also delicious, but you can't go wrong with anything on the menu; fried spring rolls, vegetarian moo goo gai pan, vegetarian orange chicken, vegetarian black bamboo shoots, and egg drop soup. My favorite restaurant in SLC, don't sleep on Shanghai Cafe! 🙂
Leave your own review
If you'd like to leave a review of your experience at this restaurant please focus on the specific dishes you sampled. Our goal is to help other diners with understanding and enjoying the above menu. If you did not enjoy a dish, please provide constructive criticism so the restaurany can use your feedback to improve.
Reviews that fail to provide insight into the menu for other diners will be removed. Reviews with profanity, or otherwise aggressive in nature will be removed.