University Of Utah Hospital Cafeteria menu
The University Of Utah Hospital cafeteria offers breakfast, lunch and dinner seven days a week. The cafeteria offers multiple stations that change through the day offering different dishes and options, at more than reasonable prices.
Worthy of note at the U, is that every weekday sees a different guest restaurant provide their unique menu to keep things fresh. (scroll down for examples). Stop by one day and you might enjoy fabulous Indian cooking, the next, impeccable Mexican cuisine. The restaurant itself also offers a daily menu of specials too.
University Of Utah Hospital Cafeteria breakfast menu
The following cafeteria breakfast menus are dated August 2019:
Review this restaurant
- have you eaten at this restaurant recently? Let us know the dishes you enjoyed so other diners can find great dishes to order here. Looking for something else? Use our
menu locator here
to discover the restaurant menus closest to you right now.

We are not affiliated with this business. Prices, ingredients, nutrition and menu options are provided only as a reference and may be outdated and incorrect. Always confirm prices directly with the listed businesses.
University Of Utah Hospital Cafeteria lunch menu
The following cafeteria menu pictures are dated March 2019. The various menu station pictures are from the lunch service. Different selections are also available at breakfast and dinner; use the following only as a guide, not a complete reference.
What about the daily rotating special restaurants at the U cafeteria?
Every weekday a different local restaurant offers a guest restaurant at the cafeteria. Just look to the right hand side as you enter the cafeteria – and check out the wall mounted TV screens that shows that days special restaurant.
Here's an example of a week in August 2019, here you could have experience wonderful Greek, Italian, Indian, Japanese and Mexican food!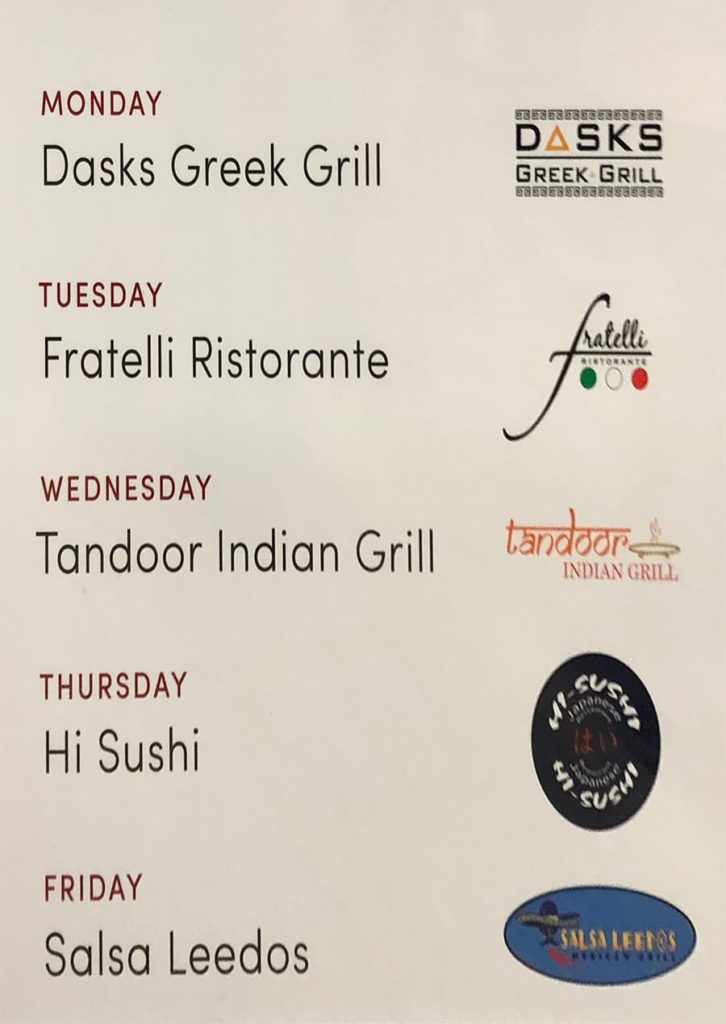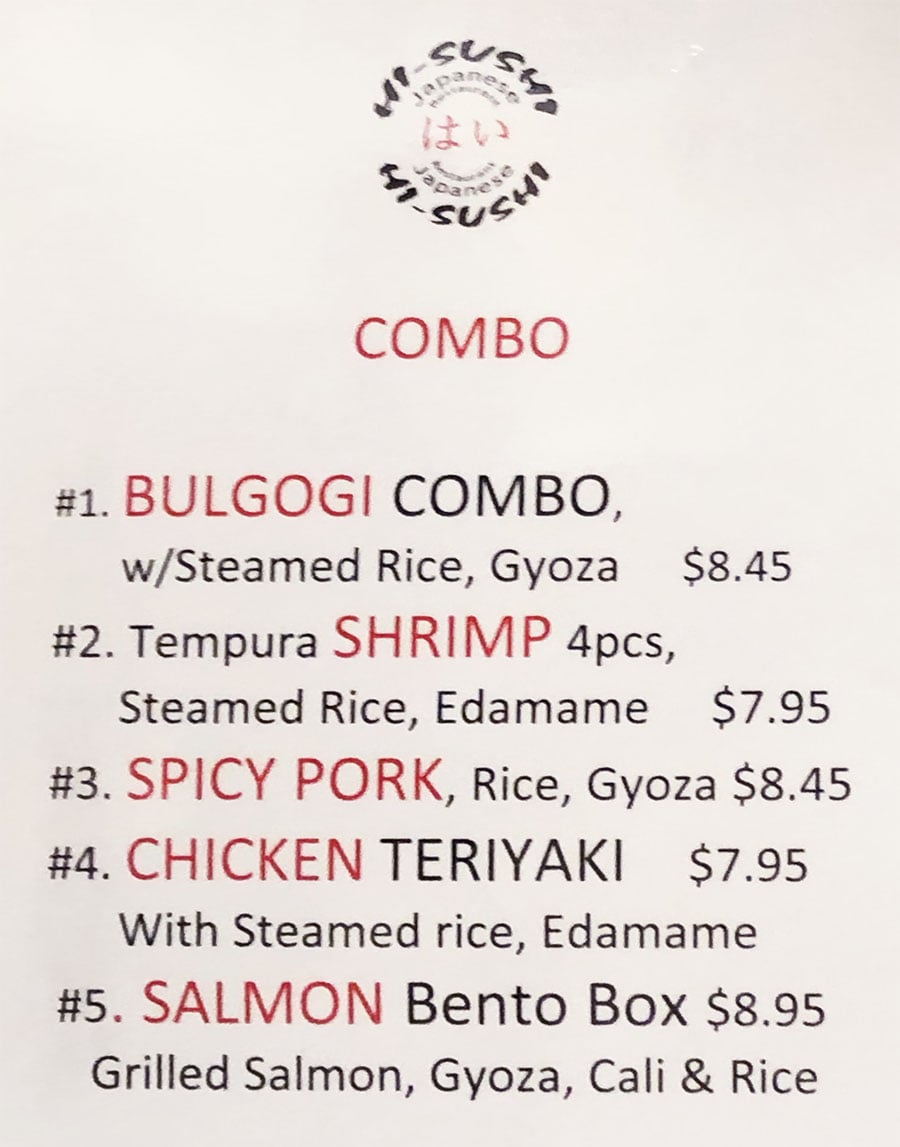 University Of Utah Hospital Cafeteria menu questions
The cafeteria at the U is fairly large and can seem quite complex at first. Here's a quick cheat sheet of how it all works.
Is the cafeteria at the University Of Utah Hospital any good?
The cafeteria is certainly better than those from way back in the day. In addition to the guest local restaurant that changes every day, the cafeteria has a number of items you might find interesting:
Baked food, not fried food. Grab a side of fries with your burger and you'll note they're baked not fried. There's definitely a healthier approach to cooking here.
Extensive salad bar. Likewise, occupying the central space of the restaurant is a large self serve salad bar, that allows look fabulous.
Thoughtful menu choices. Looking for a veggie burger? The cafeteria uses the wonderful Beyond Burger, not a sad, limp bean burger. This thoughtfulness is seen throughout, with items like pizza oven fired pizzas.
No free refills. Guests should note that soda drinks don't come with free refills. This is understandable of course, given the setting. The cafeteria would become THE hangout place for 100s of guests.
How expensive is the cafeteria at the U?
We think it's very reasonable. Where else can you find a prime rib entree for $7.75? Not many places we'd wager. Prices throughout are relatively fair: $3 for a burger, $4.99 for a pint of Ben And Jerry's ice cream, $4 for a personal pizza. You might find slightly cheaper prices off campus, but given the location, speed and ease, we think the cafeteria is a vert reasonably priced option.
How does ordering work at the University Of Utah Hospital Cafeteria?
As you enter the cafeteria you might see a line already forming on the right, don't worry, this is typically the queue for the cafeteria special restaurant of the day.
You don't have to join this line, you can head straight into the cafeteria proper, and join the individual line for any of the food stations you like. Some are self serve like the salad bar, some you might need the staff to prepare for you like a sandwich.
Slightly confusing, some stations offer a mix of both; e.g. you can grab a hamburger right from a self service rack, but you'll need the staff to hand you a portion of fries from behind the counter.
Be sure to grab a tray at the station of your choice then load up whatever you need. Heck feel free to order from different stations if you like. From there, head to the back of the cafeteria where you can make payment.
Condiments?
After you've paid, directly behind the cashiers you'll find simple condiments like salt and pepper, napkins, plus automated dispensers for forks, knives and spoons.
What do I do with my empty plate and tray?
This can be quite confusing at first glance, you might not see any trash cans or areas for your finished tray. Simply head towards the entrance and eventually you will see signs for tray return. Just before you exit (on the left hand side of the corridor) you'll find an area where you can place your tray on an automated conveyor.
Where is the cafeteria at the University Of Utah?
The Cafeteria is location on the A level. If you enter the hospital at the main entrance (floor one) head directly ahead until you see signage to take a turn right. You'll then descend a set of escalates from floor 1 to A, just keep following the signage for the cafeteria.
Reviews of this restaurant
Good food
I like the food I have gotten here but there is nothing to inform you of when or what times of day the breakfast menu ends or at what time the dinner menu starts or ends! This is a very big draw back to the customer that the cafeteria completely over looks!
Chicken Tom Yum Gai soup is divine
Tried the Tom Yum Gai soup of the day, made fresh daily- it was SO GOOD!! Highly recommend.
pretty good food
food is pretty good, plus you dont have to leave hospital, and fight traffic, parking etc. wife was in hospital for 5 days. i ate there twice a day. very, very reasonable prices and good sized portions/ i would definetly eat there again.
Leave your own review
If you'd like to leave a review of your experience at this restaurant please focus on the specific dishes you sampled. Our goal is to help other diners with understanding and enjoying the above menu. If you did not enjoy a dish, please provide constructive criticism so the restaurany can use your feedback to improve.
Reviews that fail to provide insight into the menu for other diners will be removed. Reviews with profanity, or otherwise aggressive in nature will be removed.