Beerhive Pub is a bar in downtown Salt Lake City that boasts one of the biggest selections of beers in the state; pale through amber, IPA through stouts and porters, you will find it all here. The bar also wine, spirits and a. small food menu too.
Beerhive Pub beer menu
The following Beerhive Pub beer menu is dated May 2019
Please note we are not affiliated with this business. Prices, ingredients, nutrition and menu options are provided here only as a general reference guide and may be out of date or incorrect. Please be sure to always confirm menu items directly with listed businesses. Look for other menus
here
.
The above menus were provided directly by the business.
Beerhive Pub food menu
The following Beerhive Pub food menu is dated June 2018 and was also provided by the business: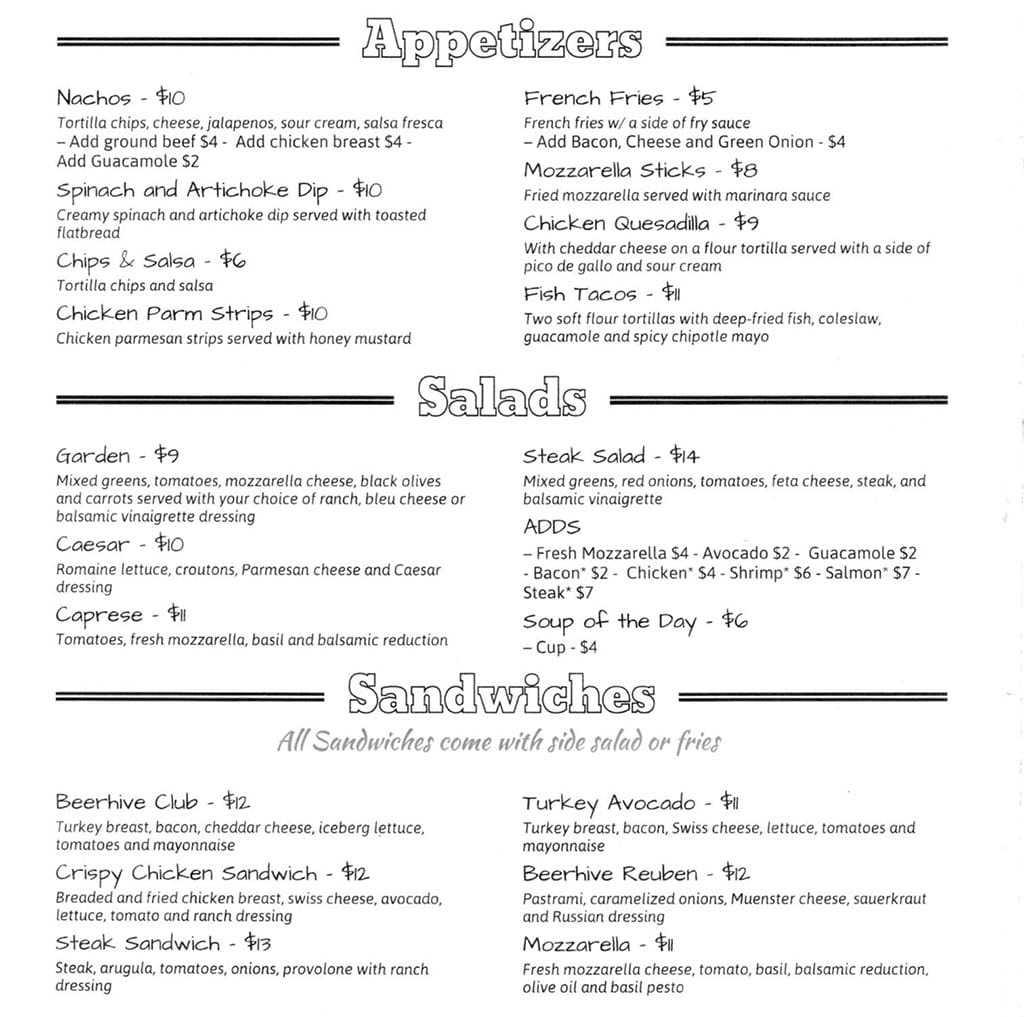 What are the hours for Beerhive Pub
| | |
| --- | --- |
| Monday | noon – 1.00 a.m. |
| Tuesday | noon – 1.00 a.m. |
| Wednesday | noon – 1.00 a.m. |
| Thursday | noon – 1.00 a.m. |
| Friday | noon – 1.00 a.m. |
| Saturday | noon – 1.00 a.m. |
| Sunday | noon – 10.00 p.m. |
What else should I know about Beerhive Pub
Cuisine: Bar food
Don't miss: Huge selection of beer
Reservations: No
Parking: No
Alcohol: Full bar
Service and atmosphere: Casual, counter service
What's it like inside Beerhive Pub?
Where is Beerhive Pub?
128 Main St, Salt Lake City, UT 84101, USA
(801) 364-4268
facebook.com/Beerhive-Pub-163241570361229/