The following information was recently updated on February 28, 2023
HallPass is a new food hall concept in The Gateway in downtown Salt Lake City. The food hall features a number of different stations, each offering different cuisines. These will rotate over time, following tastes and trends.
HallPass 2022 menus
The following are the menus for the different eateries and options located in HallPass, all are dated September 2022:
Blaze Of Thunder at Hallpass menu
Review this restaurant
- have you eaten at this restaurant recently? Let us know the dishes you enjoyed so other diners can find great dishes to order here. Looking for something else? Use our
menu locator here
to discover the restaurant menus closest to you right now.

We are not affiliated with this business. Prices, ingredients, nutrition and menu options are provided only as a reference and may be outdated and incorrect. Always confirm prices directly with the listed businesses.
Graffiti Bao at Hallpass menu
SkinnyFats at Hallpass menu
Waffadopolis at Hallpass menu
Codspeed at Hallpass menu
Colossal Lobster at Hallpass menu
Beer Zombies Graffiti at Hallpass – Sep 2022
HallPass 2019 menus
The following are the menus for the different eateries and options located in HallPass, all are dated December 2019.
SkinnyFATS menu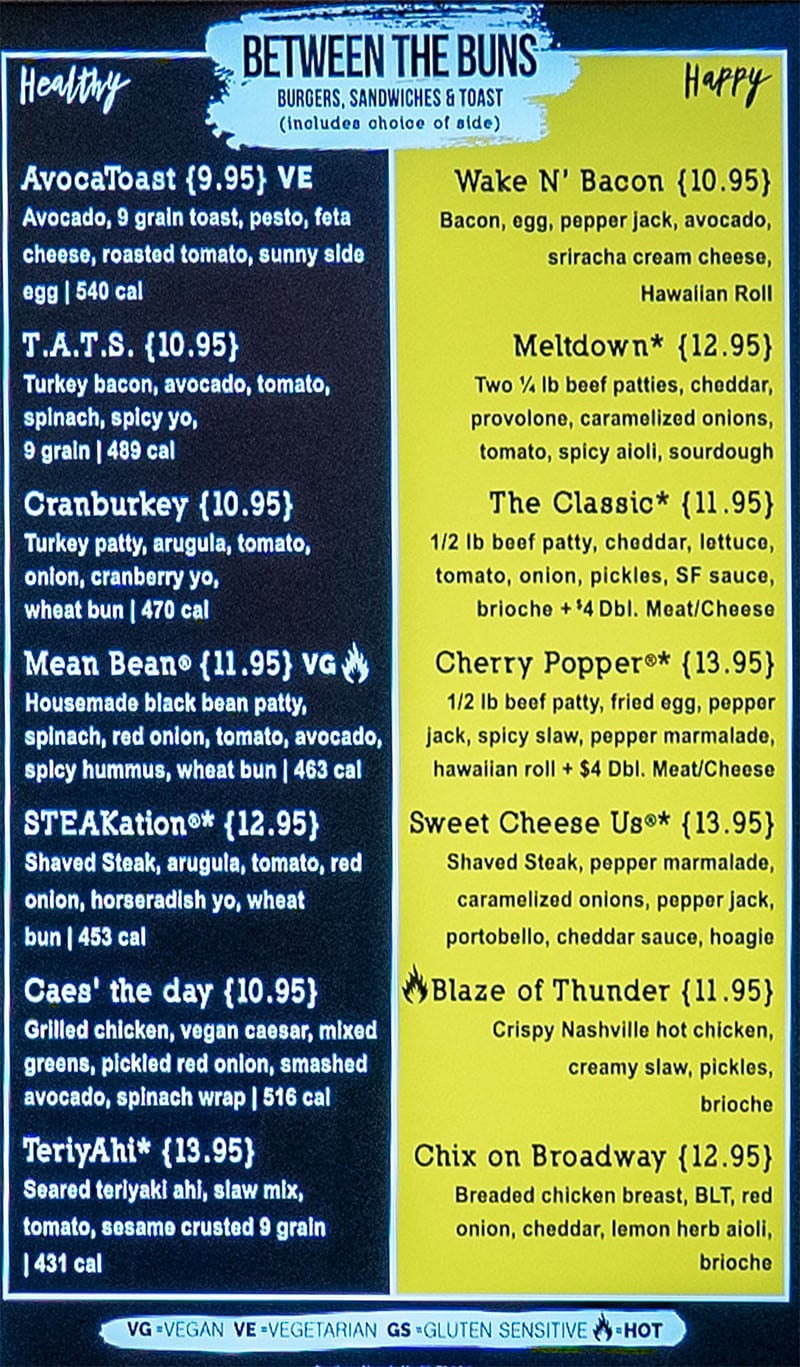 Blaze Of Thunder menu
Based on the popular chicken sandwich from SkinnyFATS, Blaze of Thunder will offer crispy Nashville hot fried chicken available as a sandwich or breasts, legs, thighs wings or tenders. Diners can choose their heat level from 0 m.p.h to 500 m.p.h. Side offerings include: coleslaw, macaroni & cheese, collard greens, frog eye salad, potato salad and banana pudding.
Raining Ramen menu
Four broths will be offered at Raining Ramen: Shoyu (chicken broth with chicken Chasu), Tonkatsu (pork broth with pork Chasu), Miso (chicken and pork broth with ground pork), Vegan Creamy Miso (white miso and veggie broth), and Hiyashi (cold ramen choice of pork or chicken Chasu). Diners will have a choice of a wide variety of add-ins. Special dishes include Chasu Buns, steamed bao, pork or chicken Chasu with hoisin, kewpie and cilantro; Edamame with togarashi spice; Kimchi Fried Rice; Gyozas served with ponzu and hot mustard; Vegetable Tempura with shishito, mushroom and scallion; and spice marinated cucumbers with vinegar, chili oil and chili flake.
Cod Speed menu
Fresh Fish Fast. Daily seafood selections will vary based on availability but will include dock to table, freshly sourced seafood including Coho salmon, wild King salmon, mahi mahi, sole, snapper, haddock, barramundi, shrimp, scallops, tilapia, trout, ahi tuna, SWAI, catfish, swordfish, sheephead, soft shell crab, crab cakes tofu and chicken. Also offered are fish & chips, buffalo popcorn shrimp or shrimp burger. Delicious sides include garlic Parmesan tots, Italian Romano potatoes, power grains, seasonal vegetables and wild rice. All are served with a range of spices and sauces.
Colossal Lobster menu
Rolls include the Maine with chilled lobster meat, mayo and grilled split bun; Connecticut with warm lobster meat, drawn butter and lemon on a grilled split but and a 'roll of the week." Specials include a Lobster Reuben with pickled onion, sauerkraut, Gruyere cheese and 1000 Island dressing; the Shrimp Louie Salad with butter lettuce, tomato, onion, egg, avocado, cucumber, chives and 1000 Island dressing; and Shrimp Tacos with chipotle aioli, slaw, cotija cheese and pico de gallo. Two 'chowdahs' will be served, New England and a Lobster Bisque. Chilled seafood includes oysters, prawns, King Crab legs, Maine lobster, ceviche and an oyster bar.
Waffadopolis menu
Liege waffles, crepes and liquid nitrogen ice cream will be featured at Waffadopolis. Savory selections include Hammy Down (turkey, Havarti, Granny Smith apples with herb aioli); Monte Cristo or Croque Madame (smoked ham, Havarti and American cheese, powdered sugar and red currant jelly); Caprese (Roma tomatoes, basil, mozzarella, EVOO and a fruited balsamic glaze); Bacon Jammin (bacon, jam, arugula salad with blue cheese dressing); and the Mediterranean (tomato, green onion, cucumber, avocado, arugula and spicy hummus). Sweet selections include the Classic (whipped cream, strawberries and maple syrup); Drunken Monkey (bananas, chocolate sauce, marshmallow, chocolate chips, whipped cream and graham cracker); Cinnutella (Nutella, fresh berries, cinnamon sugar and orange syrup); SWPB&J (peanut butter, red currant jello, peanut brittle, whipped cream and powdered sugar); ; and Gaufre a la Glace (powdered sugar and a choice of ice cream);
Beer Zombies menu
Beer Zombies Tap Room & Beer Garden is a sister brand to SkinnyFATS. His band of gypsy brewers collaborate closely with best-in-class craft breweries around the country to create unique brews unique to their taps. The bar opens to a refreshing covered patio that's sure to be the best people watching at The Gateway.
Hibachican
Chef driven, coursed tasting menus paired with wine and cocktails curated by Beer Zombies Craft Beer Bar and our Speakeasy. Chefs will be invited both from out of state and locally. The space will also offer incidental cooking classes and "Chopped"-style cooking competitions.
Guac Pusher
This hole in the wall (literally) micro concept tucked inside HallPass features made to order gourmet guacamole on demand. "We had a lot of fun with this one. Flavor profiles in guacamole vary from one country to another. We wanted to make sure we showcased more than just one style. If the door is closed that means the guac cart has rolled out for a lap around HallPass.
What else should I know about HallPass
Cuisine: Various
Don't miss: Multiple options
Reservations: No
Parking: The Gateway parking lot
Alcohol: Full bar available
Service and atmosphere: Trendy, casual
Where is HallPass located?
153 South Rio Grande Street, Salt Lake City, UT, USA
Reviews of this restaurant
There are no reviews yet. Be the first one to write one.
Leave your own review
If you'd like to leave a review of your experience at this restaurant please focus on the specific dishes you sampled. Our goal is to help other diners with understanding and enjoying the above menu. If you did not enjoy a dish, please provide constructive criticism so the restaurany can use your feedback to improve.
Reviews that fail to provide insight into the menu for other diners will be removed. Reviews with profanity, or otherwise aggressive in nature will be removed.