By The Bucket Sugar House menu
The following information was recently updated on September 24, 2022
By The Bucket is a fast casual restaurant chain. The first location in Utah can be found in Sugar House. The menu features spaghetti, by the bucketful – to go! Yhe following By The Bucket menu was provided by a reader of SLC Me nu. The menu is dated September 2022:
Review this restaurant
- have you eaten at this restaurant recently? Let us know the dishes you enjoyed so other diners can find great dishes to order here. Looking for something else? Use our
menu locator here
to discover the restaurant menus closest to you right now.

We are not affiliated with this business. Prices, ingredients, nutrition and menu options are provided only as a reference and may be outdated and incorrect. Always confirm prices directly with the listed businesses.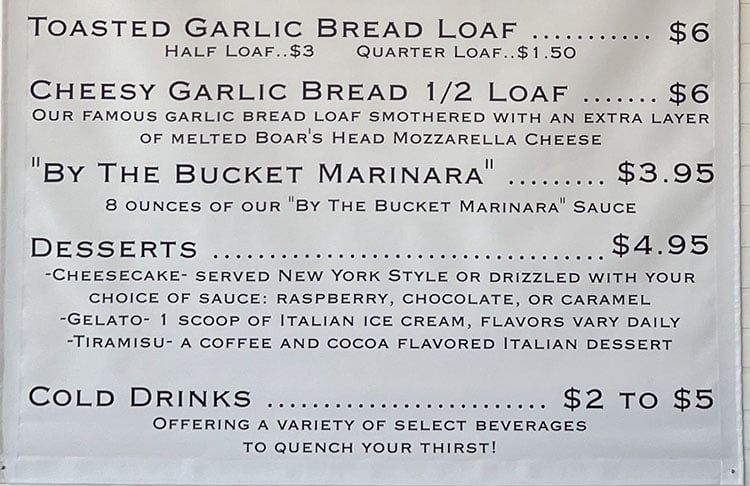 701 East 2100 South, Salt Lake City, UT 84105
Reviews of this restaurant
Average but OK
Our meal was about what I expected – spaghetti was well cooked, plenty of sauce and we liked the meatballs. Good for an emergency meal that isn't the same old stuff. Garlic bread wasn't up to par but that wasn't a big deal to us – upgrade the bread and add some garlic and it could be improved. I wasn't disappointed – but I'm a tough critic because my own spaghetti is awesome. I would give it a B-.
Leave your own review
If you'd like to leave a review of your experience at this restaurant please focus on the specific dishes you sampled. Our goal is to help other diners with understanding and enjoying the above menu. If you did not enjoy a dish, please provide constructive criticism so the restaurany can use your feedback to improve.
Reviews that fail to provide insight into the menu for other diners will be removed. Reviews with profanity, or otherwise aggressive in nature will be removed.