SOMI Vietnamese Bistro menu
We're huge fans of SOMI Vietnamese Bistro in the heart of the revamped Sugar House. This upscale take on classic Vietnamese and Chinese staples is equally great for lunch or dinner and is open seven days a week.
The restaurant even has an extensive liquor license with a range of hand selected wines and craft cocktails that means you can always find the perfect pairing for your meal.
SOMI delivered: Use Postmates to get SOMI Vietnamese Bistro delivered right to your desk or door. Get $100 in delivery credit when you make your first order too! Plus we get an $8 referral fee when you place your first order 🙂
SOMI food menu
The following SOMI Vietnamese Bistro menu was taken in November 2019:
Please note we are not affiliated with this business. Prices, ingredients, nutrition and menu options are provided here only as a general reference guide and may be out of date or incorrect. Please be sure to always confirm menu items directly with listed businesses. Look for other menus
here
.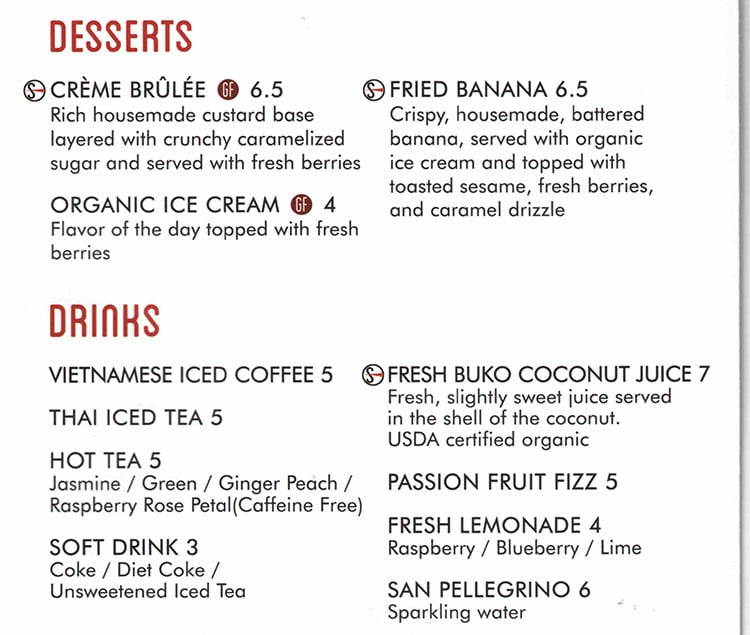 SOMI drinks menu
The following SOMI Vietnamese Bistro menu was taken in November 2017:
What else should I know about SOMI Vietnamese Bistro menu
Cuisine: Vietnamese
Don't miss: Rice dishes
Reservations: No
Parking: Parking structure across street
Alcohol: Full bar
Service and atmosphere: Waiter service, slightly upscale
What are the hours of SOMI Vietnamese Bistro
| | |
| --- | --- |
| Monday | 11 a.m. – 9 p.m. |
| Tuesday | 11 a.m. – 9 p.m. |
| Wednesday | 11 a.m. – 9 p.m. |
| Thursday | 11 a.m. – 9 p.m. |
| Friday | 11 a.m. – 10 p.m. |
| Saturday | 11 a.m. – 10 p.m. |
| Sunday | noon – 8 p.m. |
Where is SOMI Vietnamese Bistro located
1215 E. Wilmington Ave, Suite 100, Salt Lake City, UT 84106
(385) 322-1158