There surely isn't a Utah original as famous as Arctic Circle. The burger joint is the reputed inventor of Utah's famed fry sauce and its own secret recipe has been a hit with burger and fry fans for more than 60 years. The fast food operation offers a range of Americana classics, notably its burgers use 100% Black Angus beef.
Arctic Circle delivered
Use Postmates to get Arctic Circle delivered right to your desk or door. Get $100 in delivery credit when you make your first order too! Plus we get an $8 referral fee when you place your first order 🙂
Arctic Circle menu
The following Arctic Circle menu is dated May 2020:
Please note we are not affiliated with this business. Prices, ingredients, nutrition and menu options are provided here only as a general reference guide and may be out of date or incorrect. Please be sure to always confirm menu items directly with listed businesses. Look for other menus
here
.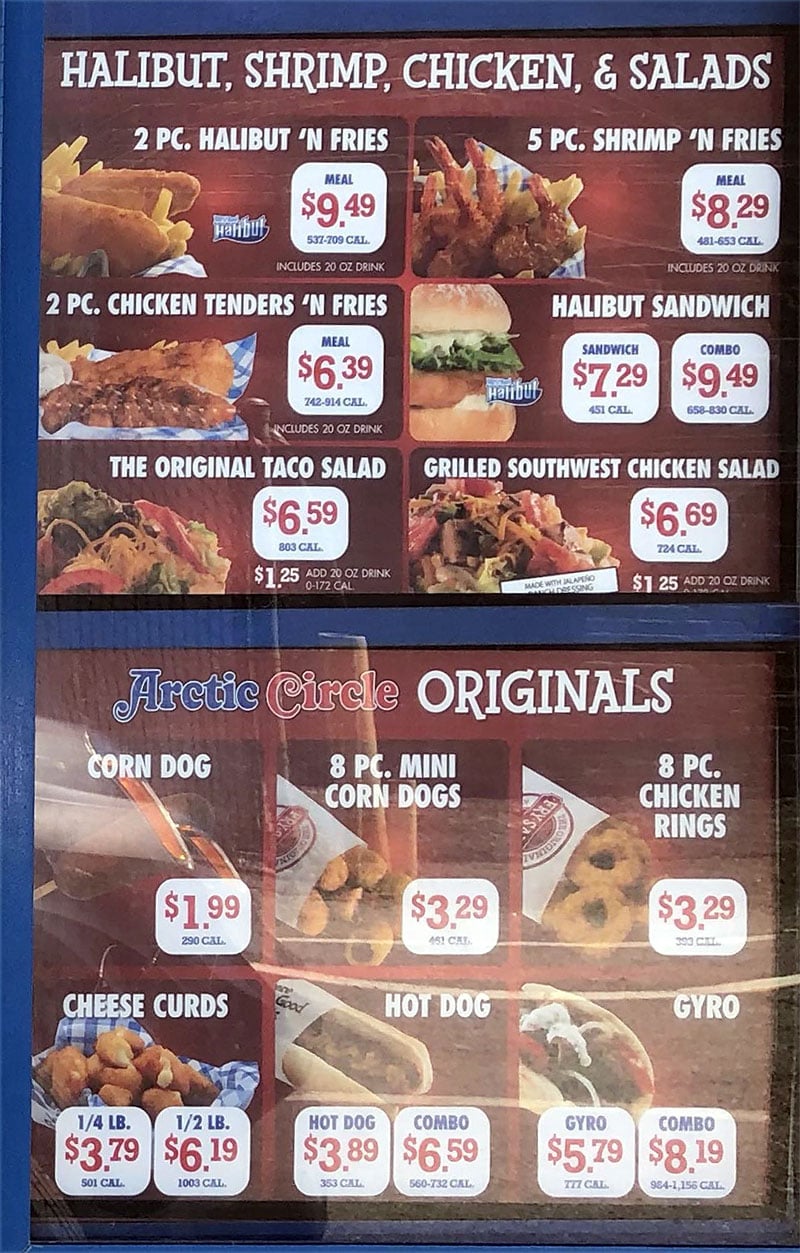 The above menu was provided by a reader of the site.
What are the hours for Arctic Circle
Most Arctic Circle stores are open 10-10 Monday through Saturday (Sunday hours different slightly at some locations). Most locations have the following hours listed below. Some stores might keep slightly different hours based on the franchisee. See our list of locations below to call and confirm:
| | |
| --- | --- |
| Monday | 10.00 a.m. – 10.00 p.m. |
| Tuesday | 10.00 a.m. – 10.00 p.m. |
| Wednesday | 10.00 a.m. – 10.00 p.m. |
| Thursday | 10.00 a.m. – 10.00 p.m. |
| Friday | 10.00 a.m. – 11.00 p.m. |
| Saturday | 10.00 a.m. – 11.00 p.m. |
| Sunday | 11.00 a.m. – 10.00 p.m. |
What else should I know about Arctic Circle
Cuisine: Burgers
Don't miss: Black Angus beef burgers
Reservations: No
Parking: Own lots
Alcohol: No
Service and atmosphere: Casual, counter service, drive thru
What Is Fry Sauce
Those new to Utah might think it's nothing more than mayo and ketchup – they're wrong. Spend any amount of time in Utah and you'll notice the this dipping sauce for fries and onion rings is nuanced and different at every business that offers it. Arctic Circle's fry sauce is no different and can even be bought in 16 ounce bottles, often at Utah grocery stores!
If there isn't an Arctic Circle near you, you can also contact Arctic Circle at the following address for information on how you can purchase fry sauce directly in the mail:
Arctic Circle Restaurants
P.O. Box 339
Midvale, Utah 84070
If you're visiting Utah and want to take home a very specific souvenir of your time here, make sure you grab some fry sauce. You won't regret it.
Where is Arctic Circle located in Utah
There are a massive 39 – THIRTY NINE – locations of Arctic Circle in Utah. This Utah original is going as strong as ever and is loved across the state. The chain also has locations in Nevada, Oregon, Washington and Wyoming.
Bountiful
Orchard Drive 2071 So. Orchard Drive, Bountiful, UT 84010
(801) 292-3561
Bountiful
Pages Lane, 1493 North Main St Bountiful, UT 84010
(801) 296-0266
Cedar City
1840 No. Main, Cedar City, UT 84720
(435) 867-5716
Cottonwood Heights
Brighton Pointe, 3408 East 7800 South, Cottonwood Heights, UT 84121
(801) 943-7218
Draper
208 East 12300 South, Draper, UT 84020
(801) 571-4073
Herriman
13162 South 5600 West, Herriman, UT 84096
(801) 302-8652
Highland
10831 N. Alpine Hwy, Highland, UT 84003
(801) 756-5392
Kaysville
328 No. Main Street, Kaysville, UT 84037
(801) 546-0001
Kearns
Cougar Place, 6146 So. Cougar Lane, Kearns, UT 84118
(801) 963-4126
Layton
1075 North Fairfield Road, Layton, UT 84041
(801) 547-8773
Lehi
570 East Main, Lehi, UT 84043
(801) 768-4679
Lindon
770 North State, Lindon, UT 84042
(801) 785-5262
Logan
930 So. Highway 89/91, Logan, UT 84321
(435) 752-8461
North Logan
545 E 1400 N Ste. 100, Logan, UT 84321
(435) 787-6315
Magna
8339 West 3500 South, Magna, UT 84044
(801) 250-6891
Midvale
7210 So. State Street, Midvale, UT 84047
(801) 566-2311
Midvale
57 West Center, Midvale, UT 84047
(801) 566-5214
Ogden
325 Washington Blvd. Ogden, UT 84404
(801) 392-4709
Orem
1360 So. State Street, Orem, UT 84058
(801) 224-1291
Riverton
12555 South 1300 West, Riverton, UT 84065
(801) 253-1655
Roy
3552 West 5600 South, Roy, UT 84067
(801) 985-0309
Salt Lake – 17th South
525 East 1700 South, Salt Lake City, UT 84105
(801) 484-8111
Salt Lake – 39th South
3919 South 700 East, Salt Lake City, UT 84107
(801) 262-1496
Salt Lake – 9th South
135 East 900 South, Salt Lake City, UT 84111
(801) 355-2412
Salt Lake – Fairgrounds
837 W. No. Temple, Salt Lake City, UT 84116
(801) 533-0515
Saratoga Springs
1266 North Redwood Road, Saratoga Springs, UT 84045
(801) 766-9636
South Ogden
929 Chambers, South Ogden, UT 84403
(801) 479-1210
Spanish Fork
1010 North Main, Spanish Fork, UT 84660
(801) 798-0111
St. George
1680 East Red Cliffs Drive, St. George, UT 84790
(435) 652-0500
St. George
1522 West Sunset Blvd, St. George, UT 84738
(435) 652-3665
Syracuse
1093 West 1700 South, Syracuse, UT 84075
(801) 776-7047
Kearns
3883 West 5400 South, Taylorsville, UT 84118
(801) 968-2001
Taylorsville
4796 So. Redwood Road, Taylorsville, UT 84123
(801) 969-2762
Taylorsville
2650 West 4700 South, Taylorsville, UT 84118
(801) 967-3116
Tremonton
25 No. 1600 East, Tremonton, UT 84337
(435) 257-7428
West Jordan
3365 West 7800 South, West Jordan, UT 84088
(801) 280-0835
West Jordan
8677 South 5600 West, West Jordan, UT 84088
(801) 260-7022
West Jordan
9046 South 2700 West, West Jordan, UT 84088
(801) 255-5286
West Valley
4073 West 4100 South, West Valley, UT 84120
(801) 968-7223