Last Updated on
Indochine Vietnamese Bistro is an Asian restaurant located near to the University Of Utah. The cuisine takes in both Vietnamese and Chinese specialties, both of which are worth your time and money. In particular some of the Vietnamese specialties are noteworthy. The restaurant is open seven days a week and has a full liquor license making it a great spot for all occasions.
Does Indochine Vietnames Bistro deliver?
Yes! You can order instantly online via the Uber Eats app; get delicious Vietnamese dishes such as pho and bun delivered to your desk or doorstep in minutes. Download Uber Eats
now.
Indochine Vietnamese Bistro menu
The following Indochine Vietnamese Bistro menu is dated September 2018: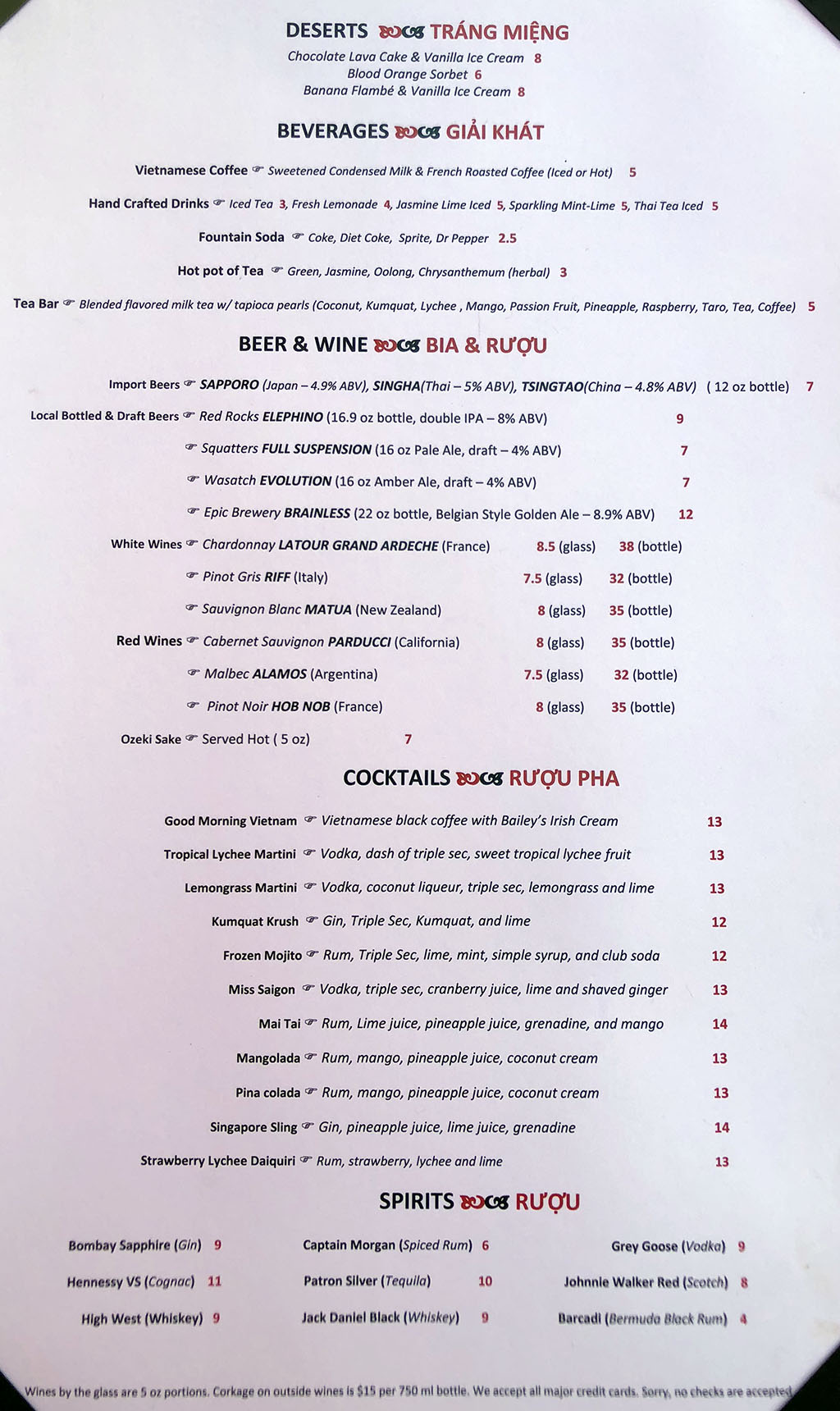 What are the hours for Indochine Vietnamese Bistro
| | |
| --- | --- |
| Monday | 11.00 a.m. – 10.00 p.m. |
| Tuesday | 11.00 a.m. – 10.00 p.m. |
| Wednesday | 11.00 a.m. – 10.00 p.m. |
| Thursday | 11.00 a.m. – 10.00 p.m. |
| Friday | 11.00 a.m. – 10.00 p.m. |
| Saturday | 11.00 a.m. – 10.00 p.m. |
| Sunday | 11.00 a.m. – 10.00 p.m. |
What else should I know about Indochine Vietnamese Bistro
Delivery: Download Uber Eats
Cuisine: Vietnamese and Chinese
Don't miss: Great authentic Vietnamese
Reservations: No
Parking: Very limited street parking
Alcohol: Full bar
Service and atmosphere: Casual, table service
Seating: Tables and booths inside, shaded patio front of restaurant
Where is Indochine Vietnamese Bistro located
230 1300 E, Salt Lake City, UT 84102
(801) 582-0896
indochinesaltlake.com
What's the food like at Indochine Vietnamese Bistro