The following information was recently updated on February 28, 2023
McDonald's is one of the most successful fast food businesses in America If you need to quickly check what's on the McDonald's menu and its price, check out the following page. Diners are advised by McDonald's that promotional pricing might be lower than advertised combo meal prices. All menus on this page from Utah locations.
McDonald's menu 2022
The following prices are dated September 2022 from a location in downtown Salt Lake City:
Review this restaurant
- have you eaten at this restaurant recently? Let us know the dishes you enjoyed so other diners can find great dishes to order here. Looking for something else? Use our
menu locator here
to discover the restaurant menus closest to you right now.

We are not affiliated with this business. Prices, ingredients, nutrition and menu options are provided only as a reference and may be outdated and incorrect. Always confirm prices directly with the listed businesses.
McDonald's menu 2021
The following prices are dated August 2021. Meals include medium fries or side salad and medium soft drink.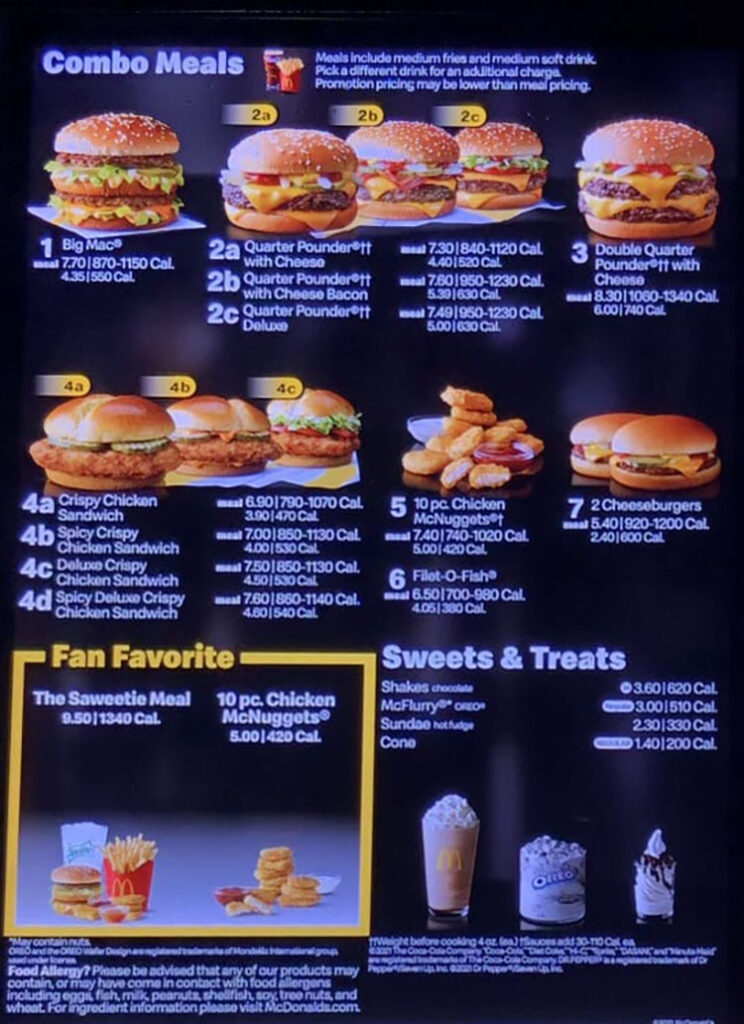 McDonald's other prices
You can read a text version of the menu over at our sister site Menu and Price. We also retain a historical record of older McDonald's menus there too!
How Popular is McDonald's
QSR magazine reports that the chain had 14,000 locations in US generating sales of $36 billion in 2016. An average US McDonald's restaurant will generate $2.5 million in sales each year . According to the QSR data a massive 88% of diners at McDonald's will return the following year.
Do I Eat Too Much McDonald's?
According to the above report the average McDonald's customer in the United States will spend $26 per month at McDonald's. This comes from an average of 3.1 visits to the restaurants each month.
Reviews of this restaurant
There are no reviews yet. Be the first one to write one.
Leave your own review
If you'd like to leave a review of your experience at this restaurant please focus on the specific dishes you sampled. Our goal is to help other diners with understanding and enjoying the above menu. If you did not enjoy a dish, please provide constructive criticism so the restaurany can use your feedback to improve.
Reviews that fail to provide insight into the menu for other diners will be removed. Reviews with profanity, or otherwise aggressive in nature will be removed.