The following information was recently updated on January 13, 2022
Monarca is a Mexican focused eatery located in downtown Salt Lake City. The restaurant moved into the space left vacant by Alamexo, and formally opened in November 2021. The restaurant is also from the team behind the very popular Santo Taco. The following Monarca menu is data November 2021 and was sent to us by fig.eats:
Monarca Appetizers
Review this restaurant
- have you eaten at this restaurant recently? Let us know the dishes you enjoyed so other diners can find great dishes to order here. Looking for something else? Use our
menu locator here
to discover the restaurant menus closest to you right now.

We are not affiliated with this business. Prices, ingredients, nutrition and menu options are provided only as a reference and may be outdated and incorrect. Always confirm prices directly with the listed businesses.
| | |
| --- | --- |
| Table Side Guacamole – Our freshest ingredients bought right to your table, chunky or smooth, spicy ar mild, made right before your eyes to your liking | $15 |
| Empanadas – A traditional twist on a local favorite, crispy corn pastries filled with your choice of Cheese, Picadillo Beef, and Chicken Tinga served with salsa verde and cremo | $12 |
| Ceviche – White shrimp, fresh lime, serrano peppers, house pico de gallo, topped with avocado served with home made tortilla chips | $11 |
| Queso Fundido – A rich combination of melted Oaxaca and Monterey jack cheese topped with delicious spicy chorizo served with chips and our hand made flour tortilla | $12 |
Monarca Tacos
| | |
| --- | --- |
| Birria Tacos – Three tender beef tacos with crispy melted cheese with a side of delicious consomme for dipping | $14 |
| Taco Chingon – Our famous big bad taco, carne asado, al pastor, bacon, fajita veggies, jack cheese, and avocado cream sauce, all stuffed into our large home made flour tortilla | $10 |
| Shrimp Tacos – Straight from the sea, our fresh grilled shrimp on hand made com tortillas and a bed of slaw, served with fajita veggies and salsa | $14 |
Monarca Quesadillas
| | |
| --- | --- |
| Steak Quesadilla – Our house made flour tortilla with carne asada filled with Monterey Jack cheese served with sour cream and house salsa | $13 |
| The Nopales Quesadilla – Seasoned prickly pear, and fajita veggies with our jack cheese in a home made tortilla served with sour cream and house salsa | $11 |
Monarca Specials
| | |
| --- | --- |
| Chicken Tinga – Slow cooked shredded chicken marinated in a rich tomato sauce with melted jack cheese | $12 |
| Steak Blossom Fajitas – Earthy Mexican mushrooms sauteed zucchini blossom, seared carne asada, and sizzling veggie fajitas served with our house made tortillas | $19 |
| Pollo en Mole Enchiladas – Two chicken filled enchiladas topped with a fall off the bone drumstick smothered in our famous in house mole sauce | $18 |
| Monarca Asada – Thin sliced rib eye steak, grilled onions and peppers, nopales with house salsa and home made tortillas, 8oz | $22 |
| Monarca Asada – Thin sliced rib eye steak, grilled onions and peppers, nopales with house salsa and home made tortillas, 12oz | $29 |
| "The Molcajete" – Traditional Latin dish served in a stone bowl filled to the brim with, chicken, chorizo, carne asada, shrimp, roasted nopales, seared jalapeno, grilled onions, queso fresco and salsa verde served with home made tortillas, easily feeds two | $34 |
Monarca Menu pictures
The above menu is from the following Monarca menu pictures, dated November 2021 and sent to us by fig.eats: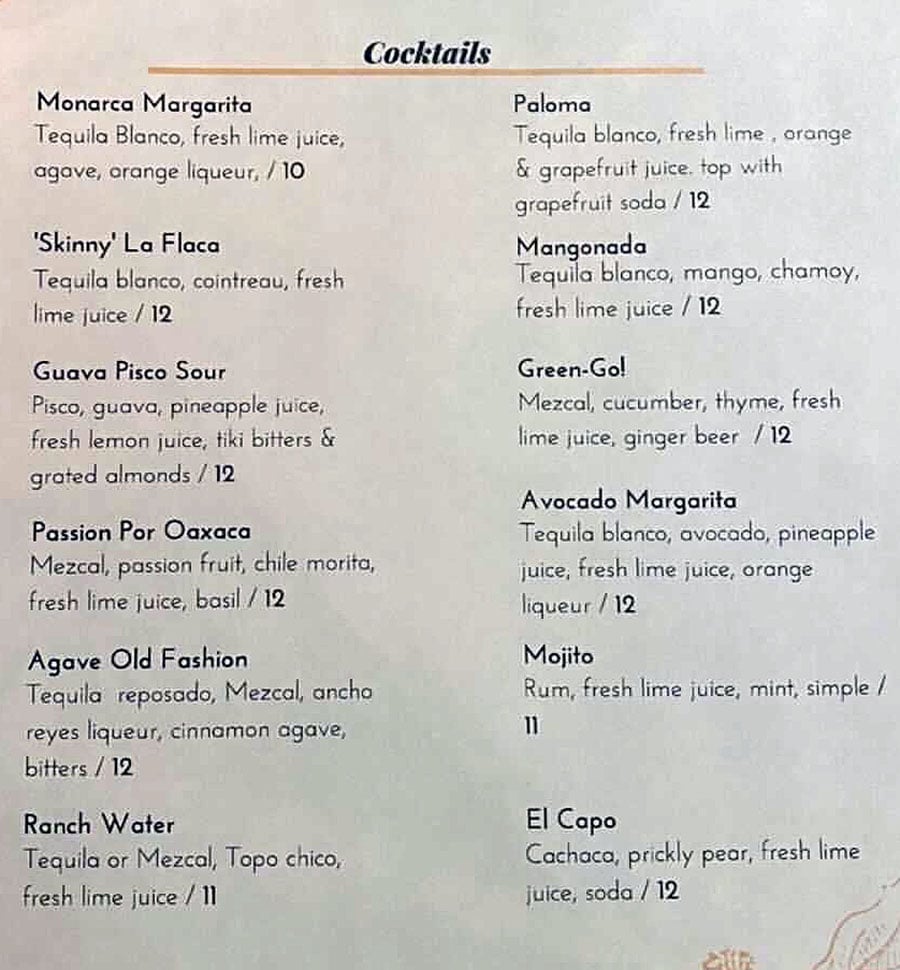 More options
268 S State St Suite 110, Salt Lake City, UT 84111
(801) 214-0111
Reviews of this restaurant
There are no reviews yet. Be the first one to write one.
Leave your own review
If you'd like to leave a review of your experience at this restaurant please focus on the specific dishes you sampled. Our goal is to help other diners with understanding and enjoying the above menu. If you did not enjoy a dish, please provide constructive criticism so the restaurany can use your feedback to improve.
Reviews that fail to provide insight into the menu for other diners will be removed. Reviews with profanity, or otherwise aggressive in nature will be removed.