Last Updated on
The original restaurant in this group of popular, family owned and operated restaurants is located in Millcreek. The other two locations are Antica Sicilia and Dolce Sicilia. Each of the three locations serves up classic, rustic Sicilian cuisine.
Sicilia Mia menu
The following Sicilia Mia menu is dated August 2018:
Sicilia Mia lunch menu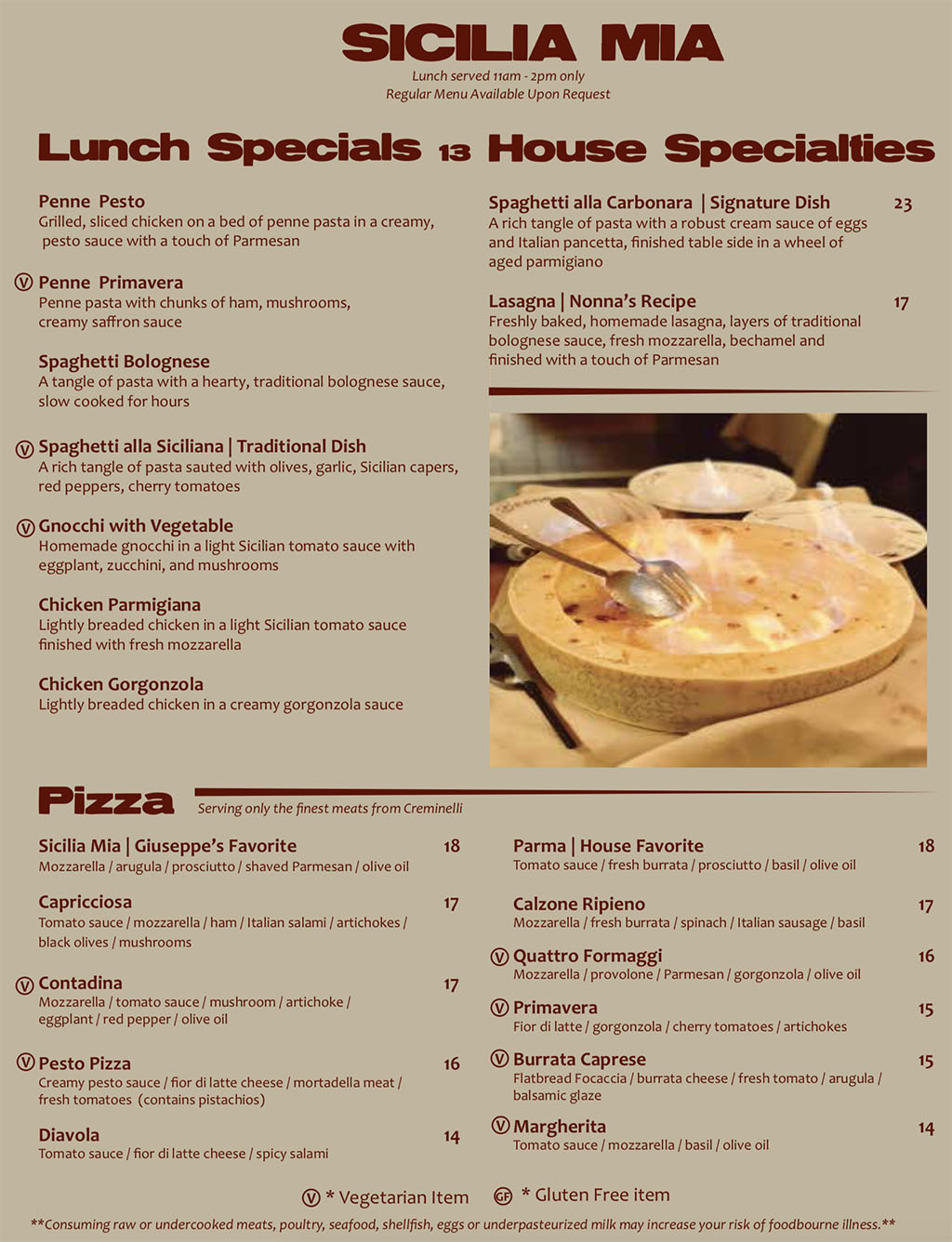 The above Sicilia Mia menu was provided directly by the restaurant.
Other interesting menus and items from our ad partners
What are the hours for Sicilia Mia
| | |
| --- | --- |
| Monday | 11.00 a.m. – 2.00 p.m.| 5.00 p.m. – 9.00 p.m. |
| Tuesday | 11.00 a.m. – 2.00 p.m.| 5.00 p.m. – 9.00 p.m. |
| Wednesday | 11.00 a.m. – 2.00 p.m.| 5.00 p.m. – 9.00 p.m. |
| Thursday | 11.00 a.m. – 2.00 p.m.| 5.00 p.m. – 9.00 p.m. |
| Friday | 11.00 a.m. – 2.00 p.m.| 5.00 p.m. – 9.30 p.m. |
| Saturday | 11.00 a.m. – 2.00 p.m.| 5.00 p.m. – 9.30 p.m. |
| Sunday | closed |
What else should I know about Sicilia Mia
Cuisine: Italian
Don't miss:
Reservations: Yes
Parking:
Alcohol: Beer and wine
Service and atmosphere: Waiter service, casual
Where is Sicilia Mia located
4536 Highland Dr, Millcreek, UT 84117
(801) 274-0223
siciliamiautah.com