Sushi in a desert? Fresh fish with no ocean for thousands of miles around? Surely you've gotta be kidding? Well actually no, SLC is home to numerous sushi restaurants, some very good. Because the FDA requires fish to be frozen before served raw in all US states, this means shipping quality seafood to Utah is no issue. Indeed SLC international airport has direct links to Tokyo and several restaurants source directly from some of the best markets in the world!
If you need something quick, check out our sushi near me list; otherwise let's begin, where can you find the best sushi in Salt Lake City? Check out the following list and see what takes your fancy:
Blue Marlin menu
Blue Marlin offers Sandy residents a great option for Japanese dining seven days a week – being open even on Sundays. The menu has a particular focus on creative sushi rolls and sashimi and nigiri sushi. For 45% off Blue Marlin, check out this Groupon offer. Blue Marlin menu What are the ... Read more about this restaurant...
Chopfuku menu
Chopfuku in Taylorsville Utah takes in a range of Asian cuisines, from Japanese to Thai to Vietnamese cuisine. Head chef Chris Dang has over 40 years of experience in Asian cuisine having worked in Washington DC to Florida to Texas and now SLC. The following Chopfuku menu was taken from the ... Read more about this restaurant...
Fatty Tuna food truck menu
Fatty Tuna is a food truck based in Lehi Utah that offers both ramen and maki sushi rolls. The truck accepts both cash and popular credit and debit cards. The following Fatty Tuna food truck menu is dated September 2016: The above Fatty Tuna food truck menu is converted from a ... Read more about this restaurant...
Itto Sushi | Menu | Hours | Delivery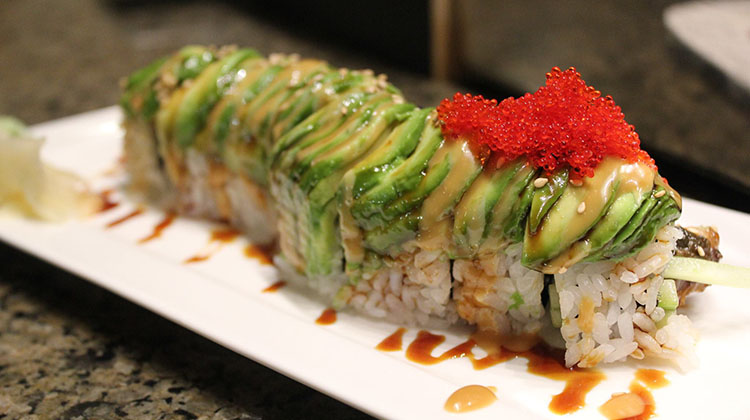 Itto Sushi offers a wide array of classic Japanese dishes and an extensive menu of sushi. Especially popular with regulars is the 50% off select roll specials. Available Tuesday and Wednesday for dine in patrons (5-9 p.m.), select rolls are sold 50% off. For a 50% coupon at other times ... Read more about this restaurant...
Kim Korean House And Sushi Bar Kim Korean House And Sushi Bar is a restaurant in Clearfield Utah that specializes in Korean cuisine; everything from traditional Korean BBQ through items like bulgogi. The restaurant also offers a sizable sushi menu too, offering a variety of maki rolls and sashimi. Kim Korean House And Sushi Bar menu The ... Read more about this restaurant...
Kyoto Japanese Restaurant menu
Kyoto is an iconic SLC restaurant that's been serving up the very best traditional Japanese cuisine for more than thirty years; indeed still to this day you'll find staff members that we're there when the restaurant first opened in the 80s. That means this place runs like a machine, ... Read more about this restaurant...
Sapa Sushi | Menu | Hours | Info
Sapa Sushi Bar And Grill in Salt Lake City has been a long term favorite with locals looking for maki, sashimi and nigiri. Hidden behind the unassuming frontage on State Street lies a beautifully appointed restaurant space, plus outside, several remarkable imported Vietnamese structures dating back 100s of ... Read more about this restaurant...
Soy's Sushi Bar and Grill menu
From the former operators of Rice Basil comes this latest evolution of their Japanese focused eatery. The new restaurant opened in May 2017 on the ground floor space of Murray's new Home2 Suites by Hilton. This makes the restaurant an equally perfect choice for those living in the ... Read more about this restaurant...
Sumorrito menu
As well as the over stuffed maki rolls, known as sumo rolls, Sumoritto also offers a range of ramen, poke and rice bowls. Thirsty? Look no further than their selection of boba and slushies too, perfect for Utah's summer. The Sumoritto menu below was taken mid 2016: Sumorrito 1775 W 5400th S. ... Read more about this restaurant...
Sushi Burrito Menu
Already a clear hit based on the crowds, Sushi Burrito has brought the West coast trend of overstuffed maki rolls to Salt Lake City. Moving into the former Guzzi's spot near downtown SLC, a second location also recently opened in Provo. The following take out menu for Sushi Burrito was ... Read more about this restaurant...
Sushi Groove | Menu | Delivery | Info
Sushi Groove in Sugar House is one of our favorite places for sushi in all of Utah. The funky hangout also has something fresh and innovative, just check out their daily specials board behind the sushi counter. At nights, live music and crowds are common, so keep that ... Read more about this restaurant...
Sushi Stix menu
New to the Sandy area in 2017 comes this Fusion Burrito Restaurant; which serves up overstuffed sushi burritos, a small selection of regular sushi, ramen bowls, rice bowls and assorted starters such as wontons and edamame. The restaurant's signature tonkotsu ramen is picture above, from their Facebook page. A ... Read more about this restaurant...
Takashi restaurant menu
Easily one of the best Japanese restaurants in Utah, Takashi Gibo's masterpiece can be considered one of the SLC's best restaurants full stop. Offering a range of modern Japanese selections, the focus here is on sushi – with the creative and musically inspired specialty rolls being a stand out ... Read more about this restaurant...
Whole Foods Trolley Square menus
Whole Foods in Trolley Square isn't just a grocery store. Lurking behind the impressive facade of one of Trolley Square's latest arrivals is an array of mini-restaurant's – each focused on a different cuisine. A reader of SLC menu, William, kindly submitted the photos for easy reference. Thanks William! The ... Read more about this restaurant...